May 11, 2019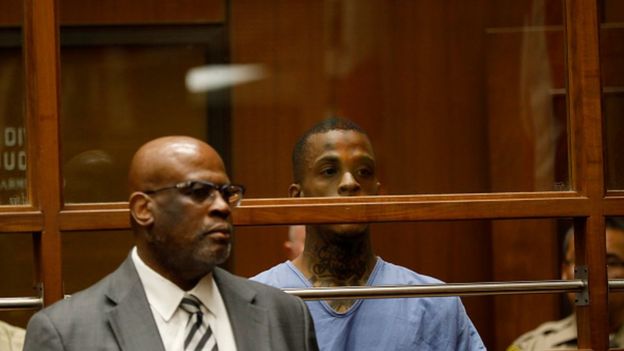 (Chris Darden (left) was hired as the defence lawyer for Eric Holder (right))
The lawyer representing a man accused of shooting rapper Nipsey Hussle has announced he's quitting the case.
Chris Darden said it was because "threats" had been made to members of his family including his children.
In April Nipsey Hussle, whose real name was Ermias Asghedom, was shot multiple times outside a clothing shop he owned in Los Angeles.
Eric Holder, 29, is awaiting trial over the shooting and faces life in jail if convicted.
Writing on Facebook Chris Darden said "cowards" had contacted him anonymously online.
He said he would continue his work as a lawyer but would no longer be defending Eric Holder.
…
Chris Darden is one of the most well-known lawyers in the US. He was a prosecutor during the famous OJ Simpson trial in 1995.
Former American football star and actor OJ Simpson was found not guilty of the murders of his ex-wife Nicole and her friend Ronald Goldman.
Darden claimed threats were made against him when he worked on that case and said he was disappointed that things hadn't changed.
"These days these cowards don't send letters instead they sit anonymously behind keyboards threatening a man's mother and children.
"And some folks think that's funny. It isn't and I won't ever forget it. Their lies and threats will never deter me from my mission," he said.
…
https://www.bbc.com/news/newsbeat-48238306
https://www.hotnewhiphop.com/eric-holders-ex-lawyer-chris-darden-continues-to-speak-on-threats-suggest-holder-is-mentally-ill-news.79860.html
https://www.latimes.com/local/lanow/la-me-nipsey-hussle-chris-darden-20190510-story.html
https://www.huffpost.com/entry/chris-darden-nipsey-hussle-attorney-withdraw-eric-holder_n_5cd5e87de4b0796a95dc05d6
Chris Darden Receives Threats For Representing Nipsey Hussle's Killer