May 28, 2019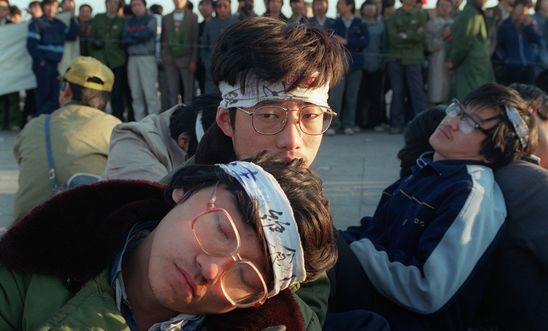 The Chinese authorities must end a wave of persecution targeting those seeking to commemorate the victims of the 1989 Tiananmen crackdown, Amnesty International said today ahead of the 30th anniversary of the bloodshed.
In recent weeks, police have detained, placed under house arrest or threatened dozens of activists and relatives of those killed seeking to mark the June 4 anniversary.
Hundreds, if not thousands, of unarmed protesters and civilians were killed when soldiers opened fire in and around Beijing's Tiananmen Square on 3 and 4 June 1989, as the authorities sought to crush widespread protests calling for political reform.
…
Censorship of Tiananmen crackdown
Any references to the Tiananmen crackdown continues to be systematically censored in China. Anyone who seeks to commemorate the victims does so at great personal risk, and is likely to be harassed or detained.
…
The suppression of those seeking to publicly mark the 30th anniversary of the Tiananmen crackdown is the latest in a wider assault against activists in China. Under President Xi's rule, the Chinese authorities have decimated the ranks of human rights lawyers and activists calling for political and legal reforms. The relentless crackdown has been marked by arbitrary arrests, incommunicado detentions, torture and other ill-treatment.
…
https://www.amnesty.org.uk/press-releases/china-activists-targeted-crackdown-ahead-tiananmen-square-anniversary
https://www.amnesty.org/en/latest/news/2019/05/tiananmen-crackdown-30-anniversary/
https://www.scmp.com/news/china/politics/article/3003571/709-human-rights-lawyer-wang-yu-taken-away-chinese-police-while
https://www.reuters.com/article/us-china-tiananmen-timeline-landmarks/timeline-chinas-post-tiananmen-re-emergence-onto-the-world-idUSKCN1SX0IE
https://www.euronews.com/2019/05/26/hong-kong-protestors-demand-china-be-held-to-account-for-1989-tiananmen-crackdown
https://www.scmp.com/news/hong-kong/politics/article/2152208/second-hong-kong-film-mainland-chinas-709-human-rights
https://www.devdiscourse.com/article/international/539639-30-years-after-tiananmen-protest-democracy-leader-beefs-up-efforts-for-justice
https://www.scmp.com/news/china/policies-politics/article/2101795/how-china-buys-silence-worlds-human-rights-critics