21/01/21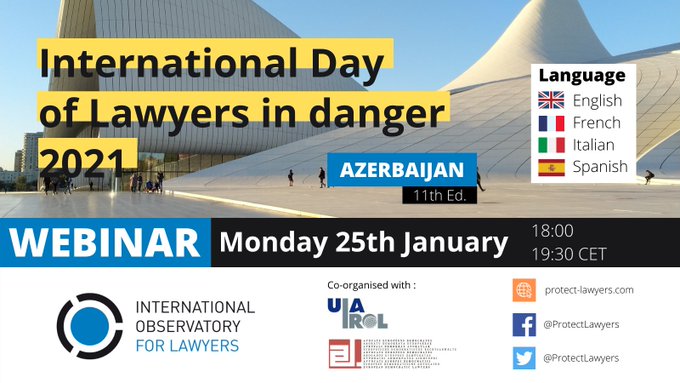 The 11th Day of the Endangered Lawyer which will be marked tomorrow, (22 January) focuses on Azerbaijan this year.
Protests and seminars will be organised in solidarity with human rights lawyers in Azerbaijan.
The Day of the Endangered lawyer is normally commemorated each year on 24 January, which falls on Sunday this year.
[…]
Protests
Protests organised by local lawyer associations are planned worldwide outside embassies and consulates of the Republic of Azerbaijan, in compliance with public health guidelines.
A petition supported by international, European and national lawyers' organizations will be presented to the respective embassies and sent to the Azerbaijan government.
Protests outside Azerbaijani embassies will be organised in Berlin and Rome and in Ankara and other Turkish cities.
A seminar  at 2pm today, organised by the Law Society of England and Wales, will be supported by Lawyers for Lawyers, DAV DeutscherAnwaltVerein, ELDH – the European Association of Lawyers for Democracy and World Human Rights.
[…]
https://www.lawsociety.ie/gazette/top-stories/day-of-the-endangered-lawyer-focuses-on-azerbaijan/
https://www.uianet.org/en/news/invitation-webinar-day-endangered-lawyer
https://www.ordineavvocatitorino.it/node/143355 (ITALIANO)