April 1, 2018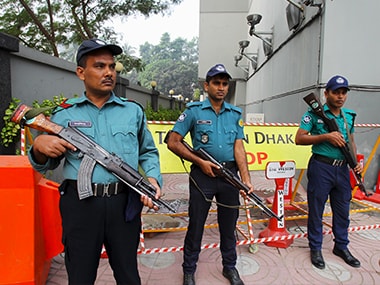 Bangladesh's police on Wednesday recovered the bloodstained body of prominent Hindu lawyer Ratish Chandra Bhowmik, who had gone missing last week after he left home in the Rangpur district.
The police also arrested four persons, including his wife, suspecting their link to the murder.
Mr. Bhowmik, 58, had fought the state's case in high-profile murder trials against Islamist extremists.
"Their confessional statements led us to the dead body from an under construction building near Bhowmik's own house," said Benazir Ahmed, Director General of police anti-crime Rapid Action Battalion, referring to Mr. Bhowmik's family. He added that the lawyer's wife, a teacher, and one of her arrested colleagues, were directly involved in the murder.
Police said mobile phone records gave them the clue to the murder leading to his wife's arrest.
http://www.thehindu.com/news/international/missing-bangladesh-hindu-lawyers-body-found/article23436883.ece
https://www.dhakatribune.com/bangladesh/crime/2018/04/07/rangpur-pp-ratish-murder-wife-gives-confessional-statement-to-court/
http://www.scmp.com/news/asia/south-asia/article/2139812/prominent-bangladesh-lawyer-vanishes-after-militants-sentenced
https://www.firstpost.com/world/bangladesh-minority-rights-activist-ratish-chandra-bhowmik-goes-missing-search-operation-on-4414345.html
https://scroll.in/latest/874119/bangladesh-lawyer-who-appeared-for-the-state-against-extremists-reported-missing