September 14, 2018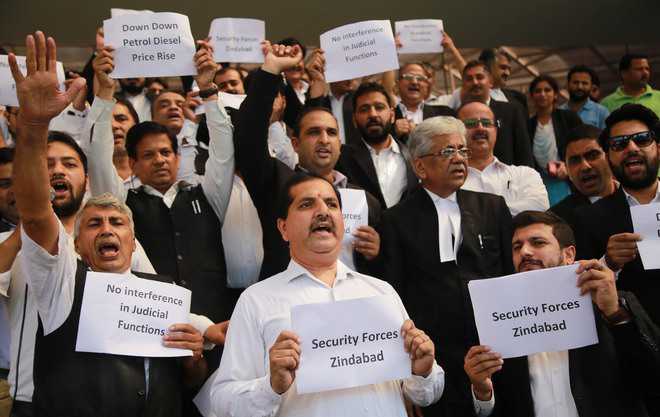 J&K High Court Bar Association, Jammu held a strong protest/demonstration at the District Court Complex, Jammu, against three burning issues viz i) Price hike in Petrol, Diesel & other essential commodities which is badly affecting the people of the country (ii) Recent Militants attack at Jhajjar Kotli & (iii) Organized attack by some political parties on the independent functioning of the judiciary for seeking favour by protesting in streets against the case which is pending in the Hon'ble Supreme Court of India- rather than making submissions during the course of hearing in such matters in the court.
B.S.Slathia while addressing the gathering stated that hike in the prices of essential commodities including Petrol, Diesel, Vegetables and other eatables is badly affecting the people of the country and the present dispensation has totally failed to control and arrest the tendency of hike in prices which is making the common man as victim of the same.
Slathia while addressing the gathering further stated that it is a matter of great pride for all of us that the security forces have very bravely countered the recent militants attack at Jhajjar Kotli and succeeded in eliminating all of them . He strongly condemned this act of cowardness by the militants which took place at Jhajjar Kotli, and cautioned the authorities to identify the sleeper cells who are active in an around Jammu so that the peaceful atmosphere is maintained and not allowed to be vitiated at the instance of supporters of such like elements. Mr. Slathia further stated that the Association is on record in cautioning the authorities for identifying the sleeper cells in Jammu when the Army Camp Sunjwan was attacked in February, 2018 by the militants from across the Boarder. The activities of these sleeper cells in active connivance of certain elements is a matter of grave concern and requires to be dealt with by the authorities seriously to avoid such attacks. The Association thankfully acknowledged the acts of bravery & courage shown by the members of the security forces at the cost of their lives in fighting these militants.
Slathia further stated that some Kashmir Centric political parties instead of participating in the local Bodies and Panchyat Elections are busy in compaining to boycott the elections not only of Local Bodies but of Assembly & Parliament as well which runs contrary to the basic concept of Democracy. It is worth-while to mention that the decision of the State Government to hold Local Body/ Panchyat Election is a welcome step as it shall strengthen the Democracy at gross root level.
…
http://www.thenorthlines.com/jammu-lawyers-stage-protest-accuse-pakistan-of-supporting-terror/
https://www.theweek.in/wire-updates/national/2018/09/14/nrg17-jk-protest-lawyers.html
https://www.devdiscourse.com/headlines/Article/180649-lawyers-stage-protest-accuse-pakistan-of-supporting-terror-activities-in-j-k
https://www.tribuneindia.com/news/jammu-kashmir/lawyers-protest-against-petrol-price-hike/652900.html