September 18, 2018
MP says attorney general hasn't justified his support for action against the Timor-Leste spying whistleblower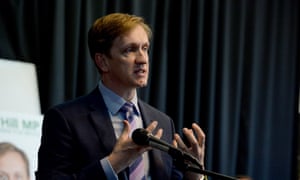 The Labor MP Julian Hill has implicitly criticised the prosecution of the former spy Witness K and his lawyer, Bernard Collaery, telling caucus colleagues the attorney general has failed to justify his decision to support the legal action.
Hill raised a number of concerns about the prosecution in the Labor caucus on Tuesday in the first major-party criticism of the controversial case, which centres around the two men blowing the whistle on Australia's spying on Timor-Leste.
The Victorian MP asked whether the shadow attorney general, Mark Dreyfus, could provide an update on the legal proceedings, and whether the case would be tried in open court.
According to people present at Tuesday's meeting, Hill expressed concern about the ongoing failure of the attorney general, Christian Porter, to give reasons for supporting the prosecution.
Hill said Labor had supported a tranche of national security reforms partly on the basis that the package included a safeguard that the attorney general consent to certain prosecutions, but the attorney general had then proceeded with a prosecution without providing detailed explanation.
…
https://www.theguardian.com/australia-news/2018/sep/18/labor-mp-julian-hill-criticises-witness-k-prosecution
https://www.crikey.com.au/2018/09/19/labor-has-serious-questions-to-answer-about-witness-k/
http://thebigsmoke.com.au/2018/09/15/how-much-of-the-witness-k-case-will-the-public-actually-see/
https://www.theguardian.com/australia-news/2018/sep/19/senator-asks-why-prosecutors-sat-on-witness-k-evidence-for-three-years
http://www.abc.net.au/radio/sydney/programs/am/witness-k-more-information-surfaces/10346238
http://www.abc.net.au/news/2018-10-06/government-sat-on-witness-k-prosecution-for-years-despite-advice/10341994
https://en.wikipedia.org/wiki/Bernard_Collaery
https://www.rtp.pt/noticias/mundo/tribunal-de-camberra-inicia-julgamento-de-delator-de-escutas-em-timor-leste_n1098522 (PORTUGUES)