August 14, 2019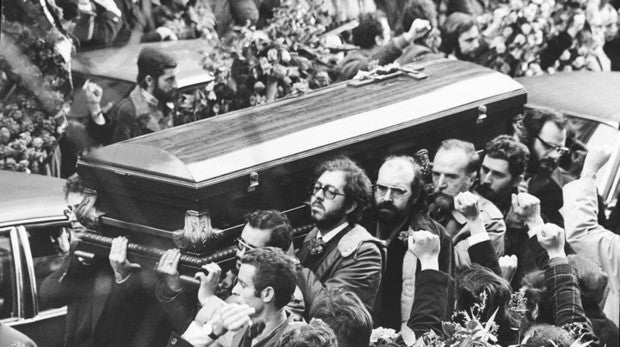 The extradition of the Spanish Carlos García Juliá, convicted of participating in the massacre of left-wing lawyers committed in Madrid in 1977, was authorized by the Brazilian Supreme Court.
The Brazilian authorities thus complied with the Spanish Government's request for the extradition of the former right-wing militant of the far-right Força Nova party, one of the perpetrators of the massacre in which three labour lawyers, a law student and an administrative officer were shot dead.
García Juliá, who served 14 of the 193 years in prison to which he was sentenced in 1980, was on the run and was arrested on December 2018 in the Brazilian state of Sao Paulo, where he lived under a false Venezuelan identity.
The Spanish court asked the Government to ask the Brazilian authorities to extradite García Juliá, on the understanding that the sentence imposed on him was not prescribed and that he had to serve 3,855 days in prison.
In a public hearing held on Tuesday, the Brazilian Supreme Court (STF) authorized the extradition of Spanish because it considered that the necessary requirements, such as the typification of crimes and the non-configuration of a political crime, were met.
In an opinion sent to the Supreme Court, the Attorney General of the Republic of Brazil, Raquel Dodge, recommended extradition by "not verifying" that the petition filed by the Spanish authorities "was filed with a view to harassing or punishing the extradited by political opinion."
However, details of the extradition process have not yet been released.
The former Força Nova militant, who was 24 years old when he committed the massacre, was convicted in 1980 of five homicides and four attempted homicides at the law office of the trade union Commissions Operarias, located at 55 Atocha Street in central Madrid.
…
Brazil authorizes extradition of one of the perpetrators of the 1977 Madrid massacre
https://en.wikipedia.org/wiki/1977_Massacre_of_Atocha
https://elpais.com/politica/2019/08/14/actualidad/1565734532_492520.html (ESPANOL)
https://www.abc.es/historia/abci-matanza-abogados-atocha-barbarie-pudo-tumbar-democracia-espanola-201908141430_noticia.html (ESPANOL)
https://www.elmundo.es/espana/2019/08/14/5d5332c3fc6c8393748b46b5.html (ESPANOL)
https://www.europapress.es/nacional/noticia-brasil-autoriza-garcia-julia-autores-matanza-abogados-atocha-sea-extraditado-espana-20190814091134.html (ESPANOL)
https://es.wikipedia.org/wiki/Matanza_de_Atocha_de_1977 (ESPANOL)
https://www.dn.pt/mundo/interior/brasil-autoriza-extradicao-de-um-dos-autores-de-massacre-de-1977-em-madrid-11207448.html (PORTUGUES)
https://noticias.r7.com/internacional/stf-autoriza-extradicao-de-espanhol-condenado-por-massacre-em-1977-14082019 (PORTUGUES)
https://fr.hespress.com/89571-bresil-la-justice-autorise-lextradition-de-carlos-garcia-julia.html (FRANCAIS)