06/10/21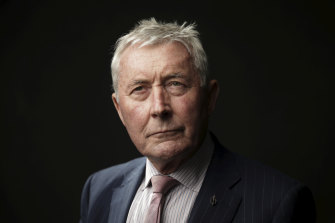 Sensitive details surrounding Australia's alleged bugging operation of East Timor will be heard in public after the ACT Court of Appeal ruled that requiring large parts of the case against Bernard Collaery to be heard behind closed doors created a real risk of damaging public confidence in the legal system.
The unanimous judgment has been hailed as a "win for transparency" because it overturns a previous ruling made under national security laws which would have required large parts of the hearings into his alleged efforts to expose a secret Australian operation to bug East Timor's government to be held behind closed doors.
Mr Collaery has always accepted that some sensitive information should not be publicly disclosed but wanted the disclosure of six specific matters during the trial.
The former lawyer for an ex-spy known as Witness K challenged an order made by the ACT Supreme Court last year to accept former attorney-general Christian Porter's application to invoke the National Security Information Act, which governs how courts should handle sensitive information. The act requires the court to give "greatest weight" to the Attorney-General's views about the national security implications of a case, which has resulted in large portions of the hearings being held in secret.
The ACT Supreme Court had ruled the public disclosure of certain information would have posed a real risk of undermining national security.
In their judgment handed down on Wednesday, the three judges of the ACT Court of Appeal accepted that the disclosure would involve a "risk" to national security but said they doubted it would be a "significant risk".
"On the other hand, there was a very real risk of damage to public confidence in the administration of justice if the evidence could not be publicly disclosed," the judgment summary said.
"The Court emphasises that the open hearing of criminal trials was important because it deterred political prosecutions, allowed the public to scrutinise the actions of prosecutors, and permitted the public to properly assess the conduct of the accused person."
[…]
https://www.smh.com.au/politics/federal/win-for-transparency-act-court-rules-in-favour-of-bernard-collaery-s-challenge-to-secrecy-order-20211006-p58xmh.html
https://www.theguardian.com/australia-news/2021/oct/06/witness-ks-lawyer-wins-transparency-ruling-as-court-cites-need-to-deter-political-prosecutions
https://www.canberratimes.com.au/story/7458571/collaery-wins-appeal-against-trial-secrecy-as-court-cites-risk-of-damage/
https://www.perthnow.com.au/politics/law-and-order/collaery-wins-appeal-against-trial-secrecy-c-4162443
https://eminetra.com.au/win-for-bernard-collaery-derails-government-attempt-to-cover-up-crimes/245846/
https://www.gofundme.com/f/support-bernard-collaery (PLEASE CONTRIBUTE!)
https://www.lawyersweekly.com.au/biglaw/32210-ugly-shameful-secret-rex-patrick-commences-action-to-reveal-confidential-documents-in-bernard-collaery-prosecution
https://www.theguardian.com/australia-news/2021/aug/16/rex-patrick-launches-bid-to-make-government-reveal-long-secret-cabinet-documents-on-timor-leste
https://www.theguardian.com/australia-news/2021/aug/11/john-howard-likely-to-give-evidence-at-bernard-collaery-trial-rex-patrick-tells-parliament
https://www.9news.com.au/national/witness-k-labor-pledges-inquiry-into-timorleste-bugging-operation/4bcbcbc2-bb13-4793-b51d-376e04b61658
https://www.theage.com.au/politics/federal/labor-announces-inquiry-into-east-timor-bugging-operation-if-elected-20210811-p58hz6.html
https://www.canberratimes.com.au/story/7363066/new-call-to-review-collaery-prosecution/
https://www.lawyersweekly.com.au/biglaw/32053-bernard-collaery-prosecution-breaching-rule-of-law-aba-says
https://en.wikipedia.org/wiki/Bernard_Collaery