January 25, 2019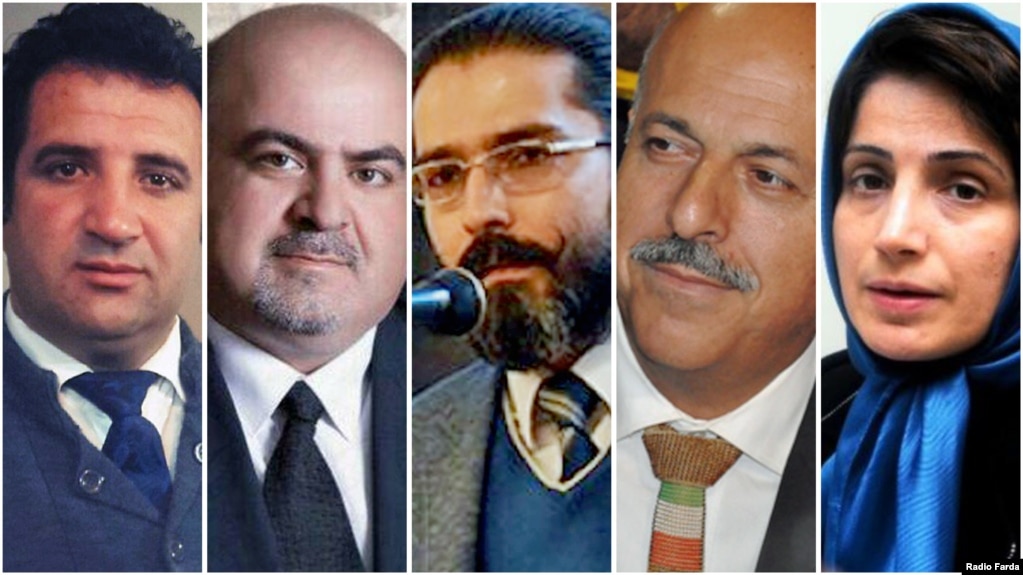 (Five Iranian lawyers who are under judicial pressure in Iran; (LTR) Mohammad Najafi, Arash Keykhosravi, Amirsalar Davoudi, Ghasem Sholeh Sadi, and Nasrin Sotoodeh.)
In an open letter addressed to the head of Islamic Republic's judiciary, dozens of prominent Iranian attorneys have called for the immediate release of their colleagues, jailed on trumped up charges related to their defense of civil rights.
Referring to the pressures imposed on lawyers by the judicial and intelligence authorities, 49 signatories to the letter have insisted, "Any sort of discrimination, restrictions, and threats against legal counsels is illegal and leads to partial, unfair, and unjust trials."
While several Iranian lawyers are currently behind bars, many more of them are free on huge bails, lined up for their trials.
Meanwhile, the signatories to the letter have asserted that a note added to the Article 48 of the Islamic Penal code is a source of discrimination against most lawyers.
The note limits the job of defending suspects in primary legal stages of national security-related cases to only twenty vetted lawyers, endorsed by the head of Islamic Republic's judiciary, Ayatollah Sadeq Amoli Larijani.
…
https://en.radiofarda.com/a/iranian-lawyers-demand-release-of-jailed-colleagues/29730100.html
https://middle-east-online.com/en/iran%E2%80%99s-hijab-protesters-not-cowed-crackdown
https://www.fidh.org/en/issues/human-rights-defenders/iran-sentencing-and-ongoing-arbitrary-detention-of-mr-farhad-mayssami
http://www.omct.org/human-rights-defenders/urgent-interventions/iran/2019/01/d25212/
https://www.newsghana.com.gh/iran-immediately-and-unconditionally-release-mr-farhad-mayssami/
http://english.alarabiya.net/en/features/2019/01/25/Activists-in-Iran-will-continue-protests-despite-crackdown.html
http://www.omct.org/human-rights-defenders/urgent-interventions/iran/2019/01/d25213/
https://en.wikipedia.org/wiki/Nasrin_Sotoudeh
https://www.fidh.org/fa/%D9%85%D9%88%D8%B6%D9%88%D8%B9%E2%80%8C%D9%87%D8%A7/%D9%85%D8%AF%D8%A7%D9%81%D8%B9%D8%A7%D9%86-%D8%AD%D9%82%D9%88%D9%82-%D8%A8%D8%B4%D8%B1/%D8%A8%D8%B1%DA%AF%D8%B1%D8%AF%D8%A7%D9%86-%D8%AC%D8%AF%D9%8A%D8%AF-iran-sentencing-of-mr-reza-khandan?fbclid=IwAR1fWnHEUQGaSCQ3z2pPyKlfkMs-qklWQYFr5Fg9w_9wDMBhbq-7E4l7KqM (FARSI)
http://resistancerepublicaine.eu/2019/01/26/jeannette-bougrab-les-musulmanes-persecutees-pour-leur-refus-du-voile-ninteressent-pas-les-feministes/ (FRANCAIS)