January 26, 2019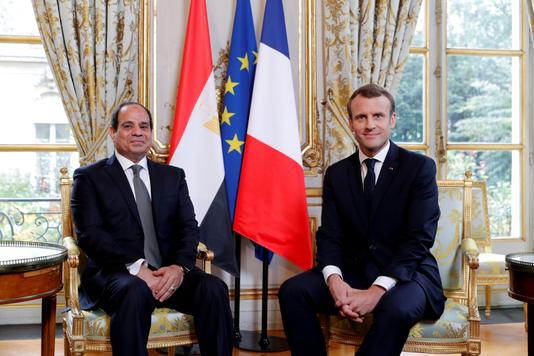 The head of state, criticized by the NGOs in his refusal to "give lessons" to his Egyptian counterpart, Abdel Fattah Al-Sissi, during his visit to Paris in October 2017, "will discuss individual cases and systemic issues " , We assure the Elysee.
"France is concerned about the way in which fundamental freedoms are not respected in Egypt", adds one.
The statement made by human rights organizations, received on 23 January at the Elysee, is without appeal. While Egypt has known since the arrival of Mr. Sissi in power in 2014, the "worst human rights crisis of the recent era" , with an all-out crackdown against Islamist opponents, left and secular, marked forced disappearances and torture, the situation has deteriorated further in the last 12 months.
…
"There was hope at the end of 2017 of a small opening before the presidential election [of March 2018] , a relaxation of the repression and space for the political opposition. It did not take place: the repression was accentuated, especially against the secular opposition and the candidates declared to the presidential " , deplores Mohamed Lotfy, director of the Egyptian Commission for Rights and Freedoms and 2018 winner of the prize franco -German of human rights and the rule of law.
Mohamed Lotfy is regularly harassed in his work by the authorities. His wife, the human rights activist and former member of the pro-revolution movement Amal Fathy, was arrested in May 2018 after denouncing sexual harassment in a video, before being convicted of "membership of an illegal organization" and "Dissemination of false information" .
http://www.tellerreport.com/news/–in-egypt–human-rights-defenders-await-an-inflection-of-french-politics-.BJUnwpYmN.html
https://madamasr.com/en/2019/01/25/news/u/5-prisoners-start-hunger-strike-to-protest-unjust-detention-on-anniversary-of-egypts-revolution/
https://www.middleeasteye.net/news/egypt-five-political-prisoners-go-hunger-strike-revolution-anniversary-103756681
https://www.albawaba.com/loop/mother-activist-amal-fathy-sentenced-egypt-video-harassment-1193130
https://www.lemonde.fr/international/article/2019/01/26/en-egypte-les-defenseurs-des-droits-humains-attendent-une-inflexion-de-la-politique-francaise_5414926_3210.html (FRANCAIS)
https://www.amnesty.fr/liberte-d-expression/actualites/legypte-du-president-al-sissi?utm_medium=reseaux-sociaux&utm_source=facebook&fbclid=IwAR0e7BZnhSsxOHTBcum4ZvQvbEWKGbQpHId-Sggh_MUCjWdzMG7sGdVe9GQ (FRANCAIS)
http://www.alterinfo.net/Egypte-la-France-a-decroche-le-jackpot–Un-rapport-accablant-sur-la-repression-made-in-France_a139910.html (FRANCAIS)
https://combat-jeune.com/2019/01/20/lactiviste-amal-fathy-en-prison-pour-avoir-denonce-le-harcelement-sexuel-en-egypte/ (FRANCAIS)
https://www.lemonde.fr/afrique/article/2019/01/29/au-caire-macron-et-sissi-confrontent-leur-vision-des-droits-de-l-homme_5415967_3212.html (FRANCAIS)
https://www.tpi.it/2019/01/25/tre-anni-senza-giulio-regeni/ (ITALIANO)
https://left.it/2019/01/24/tre-anni-senza-giulio/ (ITALIANO)
https://www.es.amnesty.org/en-que-estamos/blog/historia/articulo/el-amor-en-tiempos-del-presidente-al-sisi/ (ESPANOL)