September 16, 2019
Defendants accused of Eta membership in case alleged by critics to be politically driven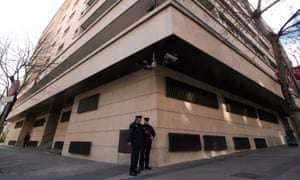 A mass trial of 47 lawyers, doctors, psychologists and political activists began and ended in 25 minutes in Madrid on Monday. A plea deal allowed the accused to avoid sentences of up to 20 years on charges of membership of the now-dissolved armed separatist group Eta.
Defendants agreed to a deal that recognised the charges against them, but which will see the majority of defendants sentenced to suspended sentences of two years each, while two others face jail time of five months.
The abrupt resolution took place on the first day of the trial at Madrid's audiencia nacional, and came as verdicts were expected in the mass trial of 12 Catalan separatist politicians next month. Similar plea deals were also reached in two trials of Basque political activists in January and April 2016.
Prosecutors in the latest Basque case had argued that the 47 accused were members of a network called koordinazioa taldea, or coordination group, which the state alleged constituted a key part of Eta's overall strategy. They faced charges that they formed part of Eta's "prison front", alongside other allegations such as financing terrorism.
The defendants and their supporters had maintained the terrorism allegations were an attempt to criminalise people who advocate for the human rights of Basque political prisoners, fugitives, their families and those affected by state violence, such as victims of torture.
…
https://www.theguardian.com/world/2019/sep/16/mass-trial-of-basque-activists-in-spain-ends-with-plea-deal
https://www.cope.es/actualidad/espana/noticias/marlaska-acuerdo-juicio-eta-refleja-trabajo-serio-fuerzas-seguridad-20190916_499004 (ESPANOL)
https://www.huffingtonpost.es/entry/los-47-miembros-del-frente-de-makos-de-eta-aceptan-penas-leves-y-no-iran-a-prision_es_5d7f4fc0e4b00d69059b67d6 (ESPANOL)
https://www.mediabask.eus/en/info_mbsk/20190916/accord-trouve-a-madrid (FRANCAIS)
https://www.sudouest.fr/2019/09/15/bilbao-20-000-manifestants-contre-le-proces-de-47-militants-basques-programme-a-madrid-6566121-4018.php (FRANCAIS)