September 26, 2019
Leading lawyer considers leaving UK if threats that began during court hearings escalate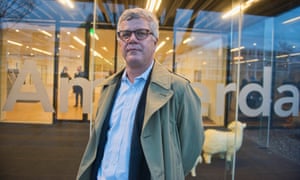 A leading lawyer in the legal fight against Boris Johnson's prorogation of parliament has said he may need to leave the country over death threats triggered by the supreme court case that ruled the suspension "unlawful, void and of no effect".
Jolyon Maugham QC has revealed that his local police and crime commissioner was sufficiently concerned by recent threats against his life that he was advised to buy a stab vest, while a former counter-terrorism expert was ordered to install a panic button in Maugham's home. High-end security equipment is also installed outside his home.
Local police have been told to frequently drive past Maugham's house to ensure the family are safe. Dale Vince, Maugham's co-litigant and millionaire owner of the electricity company Ecotricity, is paying for the law firm Schillings to monitor the internet and the dark web for specific threats against Maugham.
Maugham, a barrister and founder of the Good Law Project, said he had been advised by security experts to hire a bodyguard for key public events.
…
https://www.theguardian.com/law/2019/sep/26/supreme-court-litigant-advised-to-buy-stab-vest-after-death-threats
https://www.irishlegal.com/article/jolyon-maugham-qc-bought-stab-vest-after-brexit-litigation-threats
https://www.lbc.co.uk/radio/presenters/james-obrien/jolyon-maugham-qc-james-obrien-death-threats/