01/22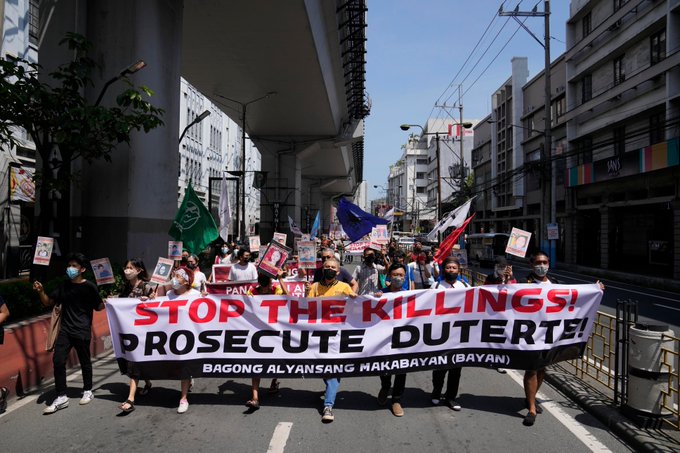 Serious human rights abuses continued in the Philippines in 2021. On September 15, the International Criminal Court (ICC) agreed to open a formal investigation into possible "crimes against humanity" committed during President Rodrigo Duterte's "war on drugs" from 2016 to 2019, and extrajudicial executions committed in Davao City in the southern Philippines from 2011 to 2016, when Duterte was mayor.
In October, Maria Ressa, the co-founder and executive editor of the news website Rappler, won the Nobel Peace Prize for defending media freedom, specifically for resisting the Duterte government's attempts to muzzle the press.
In July, the Philippine government and the United Nations launched a joint "human rights program" to address human rights violations and accountability failings in the country, reflecting domestic and international concerns about "drug war" killings. Rights groups, including Human Rights Watch, consider the program inadequate, and continue to call for an independent international investigation.
Killings of civilians and "red-tagging"—accusing activists and others of being combatants or supporters of the communist New People's Army—are endemic to the government's counterinsurgency campaign. Many of those red-tagged are subsequently killed. Journalists covering the insurgency or investigating abuses and corruption also face harassment and violence.
[…]
Killing of Activists, Rights Defenders
The country's 52-year-long communist insurgency continued in 2021. During counter-insurgency operations against the New People's Army (NPA), government security forces frequently targeted leftist activists, including peasant leaders, environmentalists, human rights lawyers, and Indigenous group heads, among others. Government and military officials often "red-tag" such individuals through announcements and social media, putting them at grave risk of attack.
In March, nine individuals belonging to different activist groups were killed during police raids in the Calabarzon region south of Manila. All those killed were previously accused of communist involvement. The simultaneous police raids occurred two days after President Duterte publicly ordered law enforcement officials to "finish off" communist insurgents. Human rights groups rejected claims that the victims were rebels or rebel supporters. In December 2020, police killed nine members of an Indigenous people's community on the island of Panay, in the central Philippines.
The counterinsurgency campaign has likewise targeted lawyers, including some representing clients who have been "red-tagged." In Cebu City in August, gunmen shot dead Rex Fernandez, a human rights lawyer whose group, the National Union of People's Lawyers, provides legal services to activists. Juan Macababbad, a human rights lawyer who worked on environment and Indigenous rights cases, was shot dead in September, by gunmen in South Cotabato province, in the southern Philippines.
[…]
https://www.hrw.org/world-report/2022/country-chapters/philippines
Fixing human rights disaster under Duterte should be priority for next president – HRW
IBP seeks protection for court officers after latest Cavite killing