21/09/21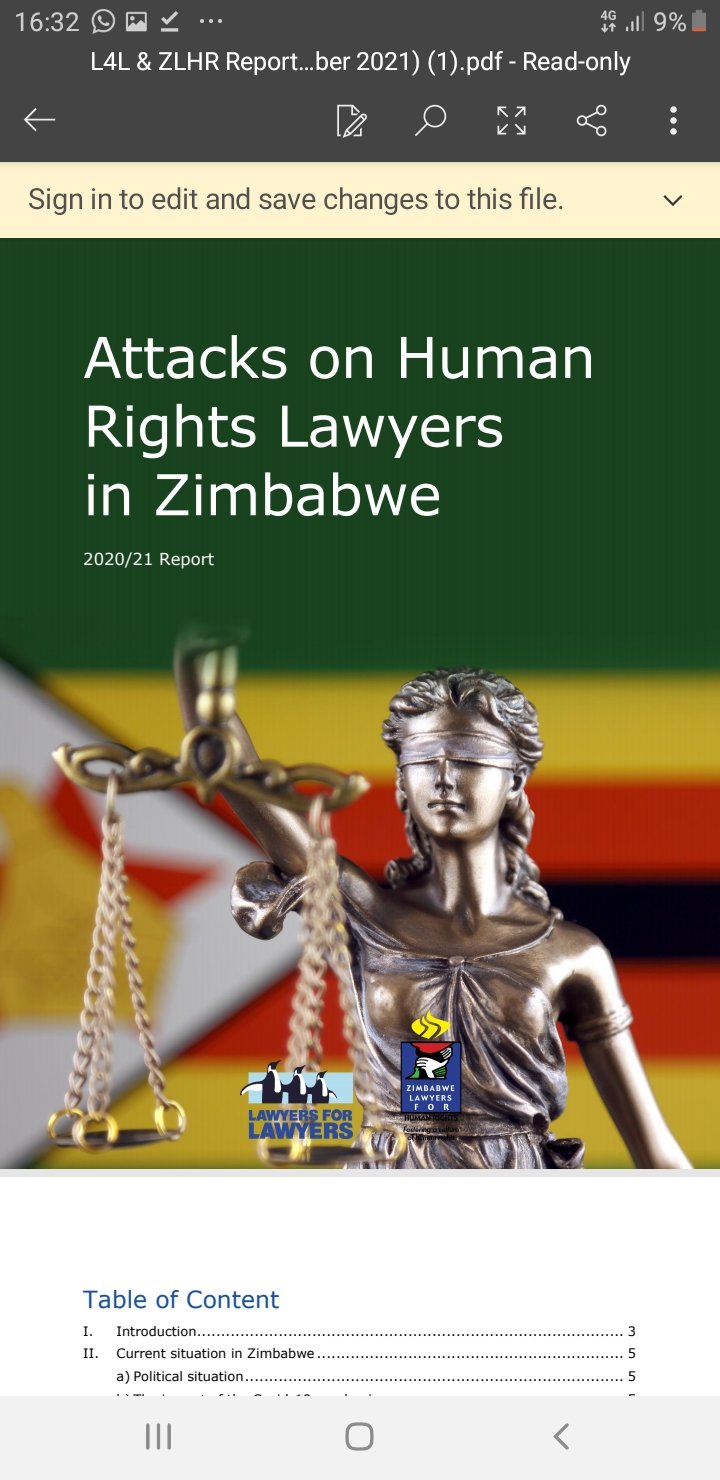 The latest research report by the ZLHR highlights the current situation of lawyers in Zimbabwe. The report outlines the political situation in Zimbabwe, as well the impact of the COVID-19 pandemic. Additionally the report demonstrates how lawyers in Zimbabwe have been barred from representing their clients, have become subjects to arbitrary arrests, and have even been attacked for practicing their profession. Read on for more on this.
Introduction
Lawyers play a vital role in upholding the rule of law and the protection of human rights, including the rights to effective remedy, due process of law, fair trial and the right of freedom from torture and other cruel, inhuman or degrading treatment or punishment. Their work is indispensable for public confidence in the administration of justice, and to ensure effective justice for all. All persons are entitled to call upon the assistance of a lawyer of their choice to provide legal services. It is the responsibility of lawyers to protect and establish the rights of citizens from whatever manner in which those rights may be threatened and defend them in all stages of legal proceedings. To fulfil their professional duties effectively, lawyers should be able to practice law independently in accordance with recognized laws, standards and ethics. They should be free from improper interferences, any fear of reprisals, or unreasonable restrictions.
[…]
Attacks against lawyers
The beginning of 2020 saw an increase in the number of arrests of Zimbabwean lawyers, and in the restrictions placed on lawyers in their freedoms to carry out their profession. The onset of the COVID-19 pandemic, and government enforced restrictions, resulted in an increase in these numbers. Alec Muchadehama, a human rights lawyer from Zimbabwe, describes the situation of lawyers under the lockdown as follows:
" [W]e had insurmountable difficulties moving to police stations and the Courts. We would be frisked at the check points. We would not be allowed to pass despite identifying ourselves as lawyers. Whilst we were prevented from reaching our clients, they were being over detained and being held incommunicado. The case of Joana Mamombe, Cecilia Chimbiri and Netsai Marova makes sad reading. They were kidnapped by suspected State security agents. On 5 May 2020 they temporarily disappeared and were discovered 36 hours later, severely tortured. They are now facing allegations of breaking the COVID-19 regulations and spreading falsehoods prejudicial to the State."
Recommendations
L4L and ZLHR call upon the Zimbabwean authorities to guarantee in all circumstances that lawyers in Zimbabwe are able to carry out their legitimate professional rights and duties without fear of reprisals and free of all restrictions, including judicial harassment. In its task of promoting and ensuring the proper role of lawyers, the Government of Zimbabwe should respect, and take account of, the Basic Principles within the framework of its national legislation and practice. Adherence to the Basic Principles is considered a fundamental pre-condition to fulfilling the requirement that all persons have effective access to legal assistance and representation. Furthermore, as a member of the African Union and the UN, and as a party to the African Charter on Human and Peoples' Rights and the International Covenant on Civil and Political Rights, Zimbabwe has legal obligations to adopt measures that effectively ensure rights to liberty, freedom from arbitrary detention, freedom of expression, and fair trial.
You can access the full report here (783KB PDF)
https://en.wikipedia.org/wiki/Zimbabwe_Lawyers_for_Human_Rights#:~:text=Zimbabwe%20Lawyers%20for%20Human%20Rights%20(ZLHR)%20is%20a%20not%20for,of%20the%20rule%20of%20law.