19/09/21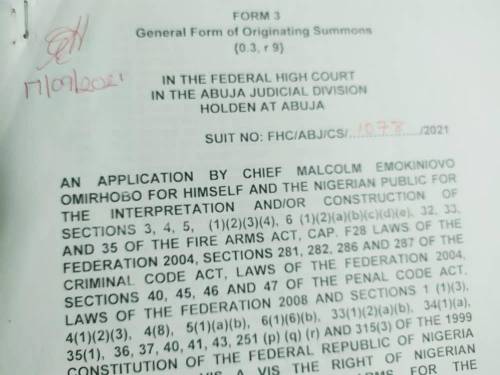 A human rights lawyer, Malcolm Emokiniovo Omirhobo has filed a lawsuit against President Muhammadu Buhari for refusing to licence and grant him and other Nigerians permission to bear AK-47 assault rifles to defend themselves against any attack by Fulani terrorists and bandits.
In the suit with number: FHC/ABJ/CS/1078/2021 filed on Friday, September 17, 2021, before the Federal High Court in Abuja and obtained by SaharaReporters, the lawyer is seeking an order of the court compelling the President and other relevant licensing authorities to grant him and all Nigerians permission and licences to bear arms for self-defence against attacks by bandits.
He said AK-47 rifles should not only be restricted to members of the Armed Forces.
According to him, Nigerian citizens should also be allowed to bear the weapon for proportionality of force.
The plaintiff contended that the Firearms Act violated the fundamental rights of Nigerians to life, to own properties, to movement, and right to family and personal life.
He stated, "That the Nigerian Constitution gives every Nigerian the right to defend their fundamental rights listed above from unlawful violence.
"That in collaboration with the Nigerian Constitution, both the Criminal Code Act and Penal Code Act give every Nigerian citizen the right to self-defence by applying the use of
such force as they believe on reasonable grounds to be necessary in order to prevent their fundamental rights to life, dignity of the human person, personal liberty, private and family life, peaceful assembly and association, freedom of movement, and right to own moveable and immoveable property from unlawful violence.
"That for the past 12 years, Nigeria has been faced with violent crimes ranging from killings, bloodletting, kidnapping, arson, rape, armed robbery/banditry, cultism, highway robbery, hijacking, abductions, suicide bombing, ethnic cleansing, communal clashes, ritual murders, human trafficking, terrorism and wanton malicious damage of property.
"That the insecurity in Nigeria is heightened with well-armed criminal elements who are on a daily basis invading Nigeria from other African countries, more particularly West African countries such as Niger, Senegal, Guinea, Mauritania, Mali, Burkina Faso, Ghana, Benin Republic, Chad, Cote d'Ivoire, and Cameroon. 
[…]
http://saharareporters.com/2021/09/19/lawyer-drags-buhari-court-demands-licence-bear-ak-47-rifle-defend-self-against-bandit
https://allafrica.com/stories/202108240178.html
Tagged: Nigeria