06/08/21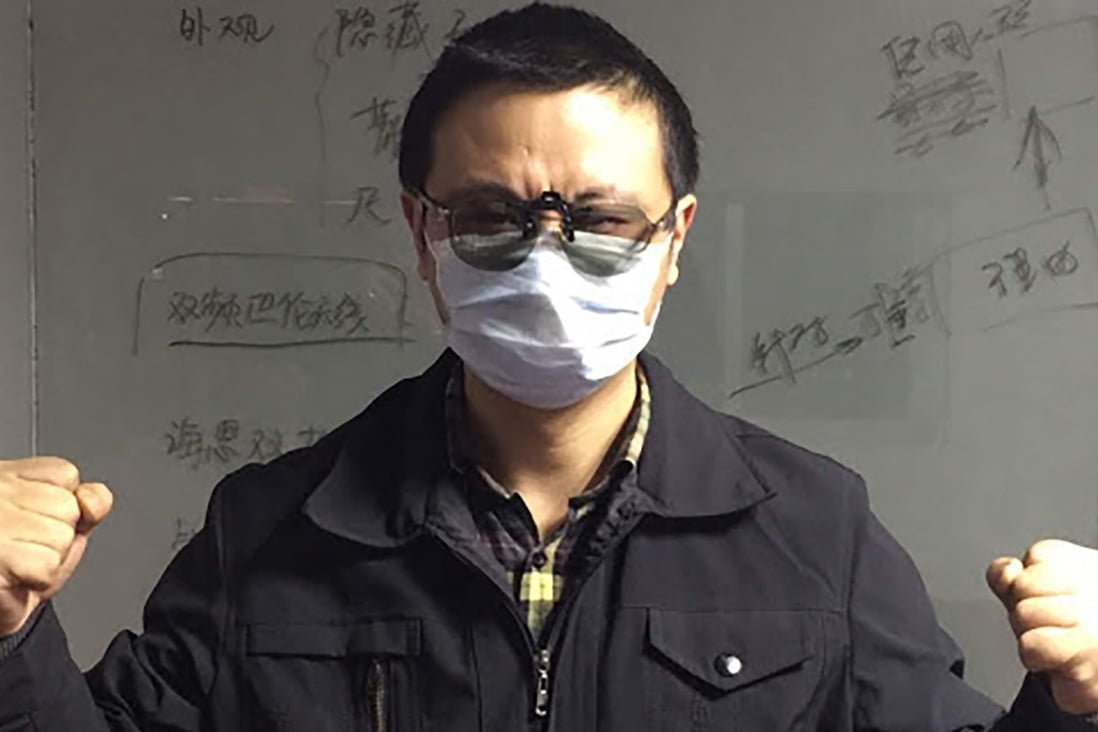 Known for his signature look of dark glasses and a surgical mask, investigative journalist-turned-lawyer Zhou Xiaoyun appears to have been detained over a courtroom video posted online more than a year ago.
The public security bureau of the city of Panjin in the northeastern province of Liaoning, said on Thursday it had detained Zhou, as well as Chengdu-based lawyer Nie Min, on suspicion of "picking quarrels and provoking trouble", a catch-all offence often used by authorities to muzzle dissent.
"The lawyers Nie and Zhou were jointly planning, Nie provided materials, [their client] provided remuneration to Zhou … and [he] published and spread fabricated false information on the internet at home and abroad," the bureau said in a statement published on its official account on Weibo, an online microblogging platform.
Zhou's detention in Panjin is connected to his role as a defence lawyer for a group of men accused by the bureau of being loan sharks.
The case opened in June 2020 and the trial drew public attention because of a prosecutor's statements in court, which were recorded and uploaded to the Chinese courts' official website for live-streaming trials.
In clips posted online in June 2020, the prosecutor admitted to several procedural errors during the trial and said "the ability and level of our investigators may not have reached the level required by [the] defendants".
"We are Panjin, we are not a first- or second-tier city," the prosecutor said.
In the video, prosecutor Sun Wang says: "Among judicial organs, accepting bribes and not getting work done precisely shows that the judicial staff have guaranteed their moral bottom line."
Beijing-based lawyer Wei Rujiu wrote on WeChat that Zhou posted the clip online and this was the reason for Zhou's detention, as well as that of Nie.
Wei's post has since been circulated by many lawyers in China and abroad.
[…]
https://www.scmp.com/news/china/politics/article/3144076/lawyers-detained-china-over-courtroom-video-prosecutor
https://www.ntd.com/what-does-it-take-to-demand-rights-in-china-interview-with-chinese-lawyers-wife_653498.html
https://www.evernote.com/shard/s574/client/snv?noteGuid=86bcc73c-f005-68b4-e563-f10d8410c909&noteKey=0aeb1d57959b910bebcf04498e475eac&sn=https%3A%2F%2Fwww.evernote.com%2Fshard%2Fs574%2Fsh%2F86bcc73c-f005-68b4-e563-f10d8410c909%2F0aeb1d57959b910bebcf04498e475eac&title=Letters%2BFrom%2Bthe%2BDetention%2BCentre%253A%2B%2B%2B%2B%2B%2B%2B%2B%2B%2B%2B%2B%2B%2B%2B%2B%2B%2B%2B%2B%2B%2B%2B%2B%2B%2BAbout%2Bthe%2BHigh%2BCourt%2BBail&fbclid=IwAR3OQqEwG8F8_H7mFNeI_lzzg-NAAeUVDZrF_U5wE7NmS5oq9WOYPSIncIw
https://www.frontlinedefenders.org/en/case/ding-jiaxi-indicted
https://www.frontlinedefenders.org/en/case/chow-hang-tung-released-bail
https://www.frontlinedefenders.org/en/case/police-seek-prosecution-human-rights-lawyer-qin-yongpei
https://www.frontlinedefenders.org/en/case/baoji-officials-evade-chang-weipings-lawyer-and-stonewall-attempts-obtain-information
https://www.lowyinstitute.org/the-interpreter/hong-kong-security-law-flexes-beijing-s-international-muscle
https://www.scmp.com/news/hong-kong/politics/article/3142514/hong-kong-law-professor-activist-benny-tai-hit-corruption
https://www.law.com/international-edition/2021/07/26/chinas-retaliatory-sanctions-a-risk-for-global-law-firms/
https://www.alternet.org/2021/07/china/
https://www.rfa.org/english/news/china/detention-07202021093400.html