04/08/21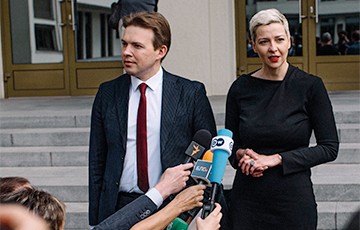 The criminal case of Maria Kalesnikava and Maksim Znak, representatives of the team of ex-presidential contender Viktar Babaryka, will be considered behind closed doors in the Minsk Regional Court, reports naviny.online.
The trial is scheduled for 11:00 a.m. The judge is Siarhei Epikhau.
Maria Kalesnikava was detained on 7 September 2020 in the centre of Minsk. Together with other representatives of the Coordinating Council, Anton Rodnenkou and Ivan Kravtsou, the authorities attempted to expel her from Belarus to Ukraine but failed. Maria tore her passport off at the border.
Lawyer Maksim Znak was detained two days later, on 9 September.
Maria Kalesnikava's lawyer intends to insist on her acquittal. As lawyer Uladzimir Pylchanka told BelaPAN, Maria's defenders and she herself have repeatedly filed motions to terminate criminal proceedings.
"Maria denies her guilt. I am convinced of her innocence," the lawyer said.
Pylchenka also said the defence intended to apply for an open trial.
Maksim Znak's defence also intends to apply for a public trial. "Publicity of the trial is an important guarantee of the interests of not only the defendants, but the whole society," Znak's lawyer Yauhen Pylchanka said in a commentary to BelaPAN.
https://charter97.org/en/news/2021/8/4/431916/
https://www.rferl.org/a/belarus-trial-opposition-figures/31392661.html
https://www.bbc.com/news/world-europe-58083672
https://www.lalibre.be/international/europe/2021/08/04/je-ne-regrette-rien-et-ce-nest-pas-une-bravade-QN3AO76IXFDVZD5HD5NVRLKCVI/ (FRANCAIS)