02/08/21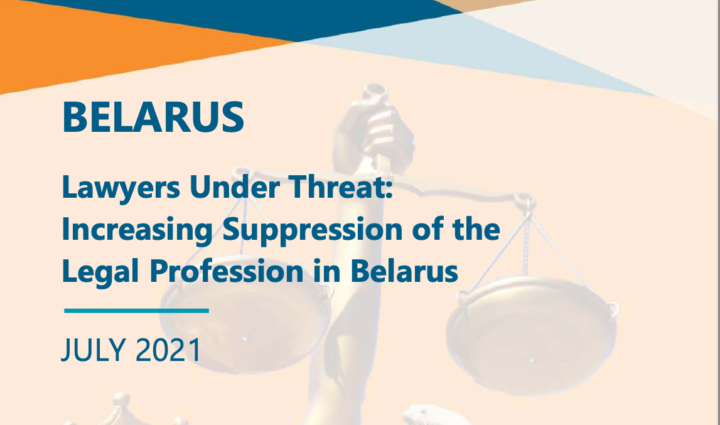 Together with more than 50 lawyers' organizations, bar associations, civil society organisations and individual lawyers, Lawyers for Lawyers co-signed a joint statement on the mounting repression against Belarusian lawyers and the disbarment of Dmitriy Laevski.
Since peaceful protests in Belarus erupted in 2020, following the presidential election condemned by the international community, the law in Belarus has been turned into a tool of oppression, and lawyers – into victims of political persecution. Lawyers, who express views contrary to those of the government or represent peaceful protestors or opposition leaders in courts, face constant pressure. Repressions against law practitioners take multiple forms – including criminal persecution, administrative arrests, punitive disciplinary proceedings. In a span of ten months, more than twenty Belarusian lawyers, who took an active political and civic stance, have been deprived of the right to practice their profession.
Lawyer Dmitriy Laevski was disbarred by the decision of the Minsk City Bar Association on 9 July 2021. The decision on disbarment was taken by the disciplinary commission of the bar association on 8 July 2021. The decision on expelling Dmitriy Laevski was urgently taken within one day and only two days after a verdict was announced in the high-profile case of one of his clients Viktar Babaryka – ex-presidential candidate, key political opponent of Alexander Lukashenko and now a political prisoner.
On 8 July 2021, Dmitriy Laevski participated in two disciplinary proceedings. The first concerned the judicial appeal to the previously made decision of the disciplinary commission of the Minsk City Bar Association on reprimanding Dmitriy for his Facebook post, commenting about the recent amendments to the Law on Legal Practice. The second one – as a result of which Dmitriy was eventually disbarred – concerned the statement made during Viktar Babaryka's hearing, which hinted at the innocence of Babaryka's co-defendants, who pleaded guilty during the trial. It is precisely Dmitriy's procedural position and the realization of his legal defense mission that became the ground for his disbarment. On 17 July 2021, Laevski appealed the decision of the disciplinary commission and published the full text of his appeal.
Being deprived of his license, Dmitriy Laevski cannot proceed to represent the interests of another high-profile political prisoner and lawyer Maksim Znak, whose trial is about to commence. Due to the disbarment, the defendant in one of the most resonant political cases has been deprived of his main defender.
[…]
Tagged: Article 19, Belarus, CCBE, Lawyers for Lawyers, OMCT