26/07/21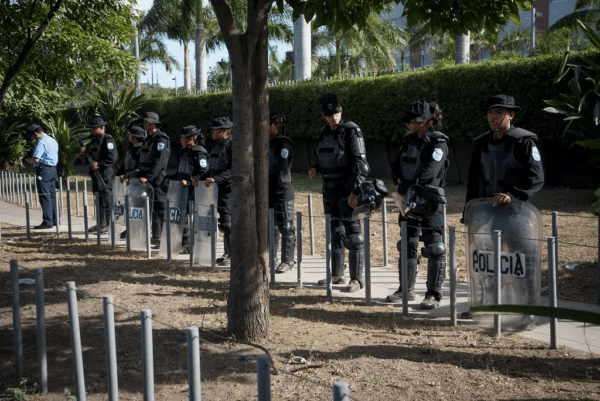 Five of the political prisoners' defense attorneys have fled the country, following an uptick in threats against them. They share fears of being accused of fabricated crimes.
"Carlos", a Nicaraguan attorney, spent two weeks accompanying six journalists who were summoned to the Public Prosecutor's Office for interrogation. This was in June, within the context of an investigation into alleged money laundering by the Violeta Barrios de Chamorro Foundation.
As he attended these clients, his house began to be watched by a motorcyclist in civilian dress; later, a pick-up truck began coming around at night. His telephone rang with calls from unknown numbers – calls he didn't answer, because he was sure he'd hear threats.
"I was walking out to a neighborhood store, and that motorcyclist followed me," he says. In order to safeguard his family, he moved to another house, but he felt "it wasn't enough". The defense lawyer decided to go into exile.
"Carlos" is one of five Nicaraguan lawyers who recently fled the country. The wave of repression unleashed against members of the opposition reached him too. Like his clients, he faced growing persecution and threats, plus the ever-present risk of jail.
The lawyer, who's using an assumed name for security reasons, wasn't in charge of defending any of the latest 26 political prisoners. His role was limited to accompanying the journalists who'd been cited by the Prosecution, and offering them legal counsel.
Lawyers who spoke with Confidencial agreed that risks have multiplied for those who defend political cases in Nicaragua. In 2018 and 2019, there were some attorneys who went into exile after receiving general threats. However, the threats in this last period have been specific, with a more aggressive tone, one of the lawyers confided.
Another of the defenders, who also asked to remain anonymous, affirmed that attorneys face surveillance, harassment, and threats, with the risk of a criminal investigation always hanging over their heads.
"All of these – the persecution, siege and investigations – put the attorney in a vulnerable situation, at a disadvantage, and in danger for exercising their profession," stated the lawyer, who had been in charge of political cases.
"There are no guarantees of respect for the right of the accused to a defense, nor are there any professional or personal guarantees," he added.
[…]
https://www.voanews.com/americas/nicaragua-arrests-7th-presidential-contender-ahead-november-vote