07/06/21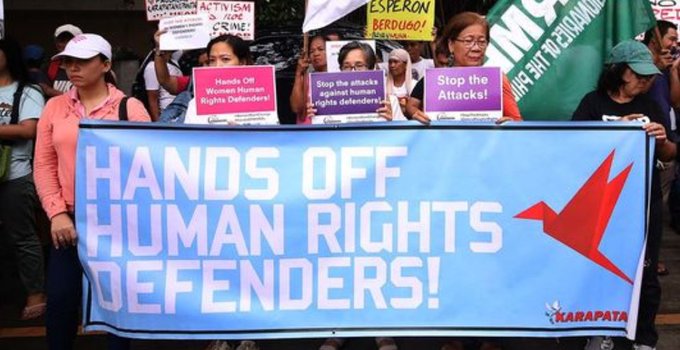 We, the undersigned civil society, religious organisations and individuals, are writing to you to express our profound and urgent concern on the recent extrajudicial killings, judicial harassment, arbitrary arrests and detention and threats through red-tagging against human rights defenders, including Karapatan human rights workers, human rights lawyers, trade unionists and public sector unions, and organizers of community pantries in the Philippines.
The killings of trade unionists Emmanuel "Manny" Asuncion and Dandy Miguel, fisherfolk leaders and couple Ana Mari "Chai" and Ariel Evangelista, urban poor activists Melvin Dasigao and Mark Bacasno, and indigenous farmers Abner and Edward Esto and Puroy and Randy dela Cruz in March 2021 alone are disturbing incidents, following the killings of nine indigenous leaders in Capiz on December 30, 2020. Almost all were killed in the course of police and military operations, using questionable search warrants and the oft-heard "nanlaban" narrative. We note that these were the same reasons given by the Philippine National Police in the conduct of drug war operations in the Philippines, and we find it deeply disturbing that the same lines are being increasingly used now in the deaths of activists.
Human rights lawyers, including those who are assisting several petitioners against the Anti-Terrorism Act of 2020 at the Supreme Court, face threats and physical attacks. Women's rights lawyer Evalyn Ursua reported that individuals onboard motorcycles are surveilling her and human rights lawyer Angelo Karl Guillen suffered stab wounds after unidentified men attacked him.
Arbitrary arrests and detention using the same pattern of questionable search warrants and through cases perfunctorily filed against human rights defenders without due process were also reported. Karapatan human rights workers Teresita Naul, Alexander Philip Abinguna and most recently, Renalyn Tejero and Nimfa Lanzanas, were arrested and are currently detained based on these false charges. Along with Lanzanas, trade union leaders Elizabeth Camoral, Esteban Mendoza, Ramir Corcolon, Arnedo Lagunias, Eugene Eugenio and Pol Viuya, and peasant leader Joseph Canlas were arrested in March 2021.
[…]
https://www.fidh.org/en/region/asia/philippines/philippines-international-concern-over-the-situation-of-human-rights
https://www.karapatan.org/intl+groups+express+concern+on+philippine+rights+situation+to+sc+doj
https://www.omct.org/en/resources/statements/philippines-international-concern-over-the-situation-of-human-rights-defenders
https://www.philstar.com/headlines/2021/06/07/2103737/103-rights-groups-call-sc-justice-review-search-warrant-issuance-implementation
https://newsinfo.inquirer.net/1437947/ecija-court-acquits-rights-lawyer-wife-in-unjust-vexation-case-filed-by-local-police-chief