07/03/21
Iranian human rights defender Nasrin Sotoudeh, a beacon of hope for many Iranians suffering under the theocratic mullah dictatorship, will mark the thousandth day of her prison sentence on 8 March 2020. She was arrested on 13 June 2018 and later sentenced to 33 years imprisonment and 148 lashes.
Nasrin Sotoudeh campaigned primarily against anti-women laws and fought against the arbitrary violation of existing rights within the Islamic Republic. Before her new conviction, Nasrin Sotoudeh worked to defend two young women who publicly protested against the wearing of the headscarf enforced by law and who were subsequently imprisoned. Nasrin Sotoudeh is an iconic figure of the Iranian human and civil rights movement. She has received many international awards and is a member of the board of trustees of the International Society for Human Rights.
Martin Lessenthin, spokesperson of the IGFM board, emphasises: "8 March 2021 is a sad day for human rights. Every day that Nasrin Sotoudeh has to spend behind bars is a day when the Iranian leadership commits a crime against its people. On many occasions, Nasrin Sotoudeh defended people in court who otherwise would not have found a lawyer. She was always on the side of those victimised by the oppressive power apparatus. She defended women who wanted to live a self-determined life or children who were threatened with the death penalty. This is yet another reason why Nasrin and her family are so cruelly persecuted by the mullah regime."
Until mid-October 2020, Nasrin Sotoudeh was imprisoned in the notorious Evin Prison before being transferred without her knowledge to Qarchak Prison, known for its abysmal sanitary conditions, on 20 October 2020 under the pretext of a hospital visit. During her detention, she was allowed to leave prison for a few days following a 50-day hunger strike to seek medical treatment for Covid disease and to see her family. However, her prison sentence is still set to last more than 20 years, an inhumane punishment for the mother of two children, IGFM criticises.
In 2012, the European Parliament awarded her the Sakharov Prize for Freedom of Thought for her courageous commitment to human rights. In September 2020, Sotoudeh was awarded the Human Rights Prize 2020 by the German Judges' Association and on 1 October 2020 she was awarded the Right Livelihood Award, also known as the "alternative Nobel Prize".
https://en.qantara.de/content/a-sad-day-for-human-rights-nasrin-sotoudeh-in-prison-for-1000-days
https://sabrangindia.in/article/nasrin-documentary-iranian-woman-defending-human-rights
https://www.abogacia.es/actualidad/noticias/la-abogada-irani-nasrin-sotoudeh-y-las-agrupaciones-de-mujeres-abogadas-de-valladolid-y-del-colegio-de-alicante-reciben-el-i-premio-igualdad-de-la-abogacia/
https://www.facebook.com/events/451707109210204 (FRANCAIS)
https://www.le-pays.fr/roanne-42300/actualites/en-soutien-a-nasrin-sotoudeh_13922674/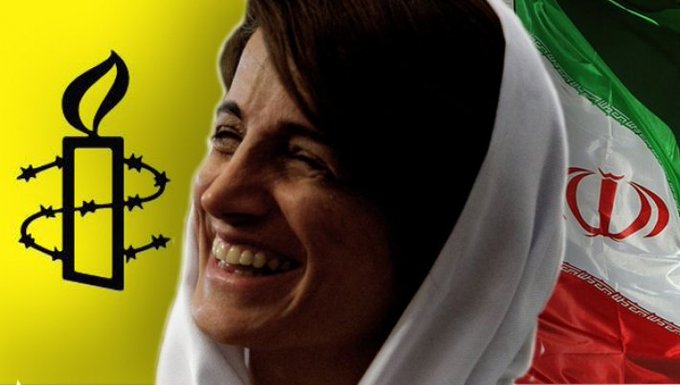 Tagged: CCBE, France, Front Line Defenders, Iran, Spain