22/12/20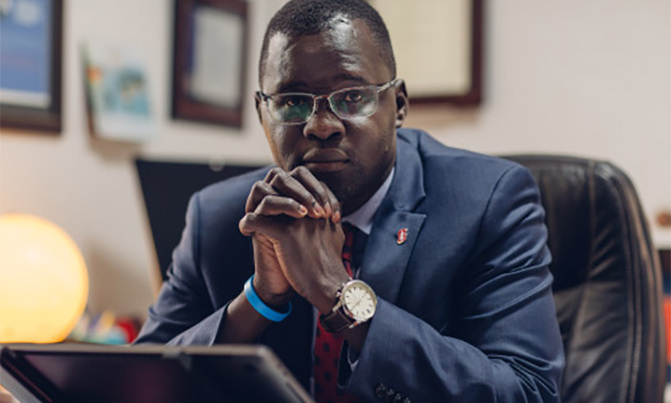 Human rights lawyer Nicholas Opiyo was on Tuesday picked up by men in plain cloth from a restaurant in Kamwokya, a Kampala suburb, and taken away to an unknown destination.
Details about the arrest remained scanty but sources present noted that he was picked from the restaurant where he had reportedly gone for lunch, handcuffed, and placed into a saloon car before it sped off to an unknown destination.
Kampala Metropolitan Police Spokesperson Patrick Onyango noted they were not aware of the incident. "Let me cross-check and get back to you," Onyango noted.
The controversial lawyer had built his name as a human rights defender and often times has been at loggerheads with the government over a number of human rights abuses.
His interviews on international media outlets have often drawn a backlash with the government, accusing him of working for foreign interests.
https://www.newvision.co.ug/news/1535932/human-rights-lawyer-nicholas-opiyo-arrested
https://www.monitor.co.ug/uganda/news/national/human-rights-lawyer-nicholas-opiyo-arrested-3236484
https://www.prnewswire.com/news-releases/tassc-international-statement-on-the-abduction-of-ugandan-human-rights-lawyer-nicholas-opiyo-and-fellow-lawyers-301197878.html
https://www.movedemocracy.org/person/nicholas-opiyo
STATEMENT ON ABDUCTION AND INCOMMUNICADO DETENTION OF NICHOLAS OPIYO
(Kampala / December 22, 2020) Chapter Four Uganda is deeply concerned about the abduction and incommunicado detention of our Executive Director, Nicholas Opiyo earlier today afternoon by unknown security operatives.
Chapter Four is further concerned about the safety and well-being of Mr. Opiyo, considering that he is being held outside of the protection of the law.
We are in the process of gathering facts and reviewing the situation and we will be taking measures to ensure his prompt release.
We condemn this brutal abduction and we call upon our colleagues and partners to condemn the arbitrary violation of his personal liberty, incommunicado detention, and call for his immediate unconditional release.
Chapter Four legal team is taking action to ensure that Mr. Opiyo's rights are respected and to ensure his prompt and unconditional release.
Chapter Four Board
https://chapterfouruganda.org/