22/11/20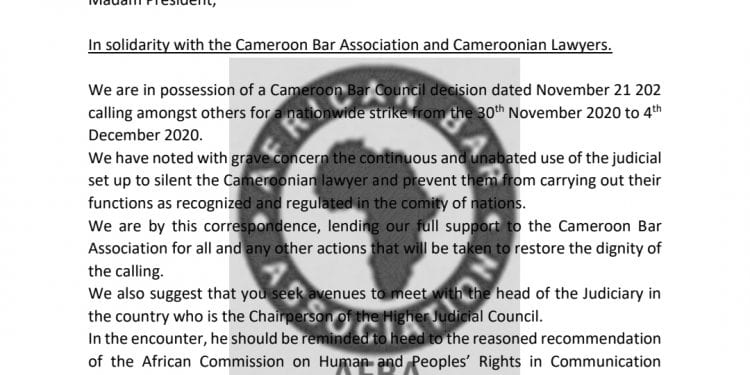 The African Bar Association has lended support to the Cameroonian lawyers' planned protests scheduled between November 30 to December 4.

According to a release signed by the Country Chairman of the African Bar, Stanisius Ajong, the planned protest is necessary to "restore the dignity of their calling".

"We also suggest that you seek avenues to meet with the head of the judiciary in he country, who is the Chairperson of the Higher Judicial Council," stated the African Bar in a release.

The African Bar stated that Cameroonian authorities should free up the judiciary and reduce the power exerted on the judicial arm of Government.

The lawyers are saying authorities are preventing them from executing their duties.

This follows an incident on November 9 where some lawyers were brutalised by police when they came to defend their colleagues at the Court of First Instance Bonanjo.
[…]
https://timescapemag.com/posts/breaking-news-cameroon-unleashes-terror-on-lawyers-bar-association-declares-nationwide-strikes-1
Cameroon Bar Association Calls for nationwide protest
https://panoramapapers.com/barreau-du-cameroun-suspension-des-plaidoiries-jusqua-nouvel-ordre/ (FRANCAIS)