20/11/20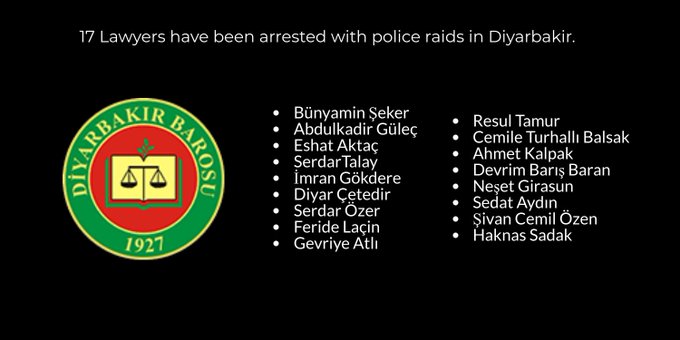 Turkey arrested two dozen lawyers in early morning raids in Diyarbakir on Friday and issued arrest warrants for more than 100 people as part of an investigation into a pro-Kurdish organization.
At least 15 members of the Diyarbakir Bar Association were detained and their homes searched under allegations of ties to the Democratic Society Congress (DTK), tweeted Cihan Aydin, chair of the association.
Authorities in Diyarbakir issued arrest warrants 101 people in connection with a probe into the DTK. They have made 72 arrests, 24 of whom are lawyers, and seized weapons and documents, according to Anadolu Agency.  
[…]
https://www.rudaw.net/english/middleeast/turkey/20112020
https://ahvalnews.com/diyarbakir/police-raids-target-lawyers-diyarbakir-more-100-face-arrest
https://anfenglish.com/news/diyarbakir-chief-public-prosecutor-issues-101-arrest-warrants-48090