October 3, 2019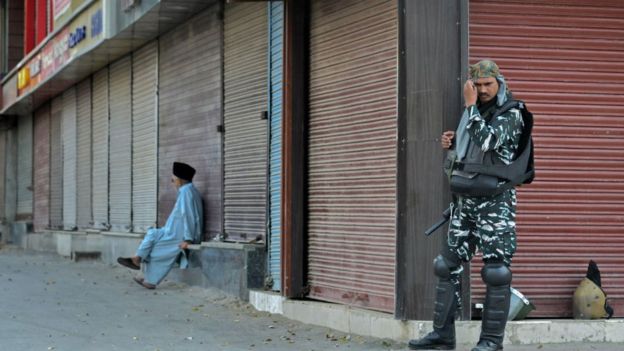 Thousands of people have been detained in Indian-administered Kashmir following a government move to strip the region of its special status. Worried family members have been flocking to the courts – but to little avail, reports BBC Hindi's Vineet Khare.
Altaf Hussein Lone looked anxious as he sat on a red printed sofa in a large hall of the high court in Srinagar, the main city of Indian-administered Kashmir.
Since there is no public transport readily available, he had to pay an exorbitant amount to travel from his home in Baramulla, more than 50km (30 miles) away.
Life here has come to a standstill since the region lost its partial autonomy on 4 August. Internet and mobile phone connections remain suspended, roads and streets are largely deserted; and tens of thousands of extra troops have been deployed.
Despite government assurances that schools and offices can function normally, that has not happened. Most businesses have stayed shut as a form of protest against the government, but many owners also say they fear reprisals by militants opposed to Indian rule if they go back to business as usual.
Thousands of locals, including political leaders, businesspeople and activists, have been detained. Many have been moved to prisons outside the state.
Mr Lone was at the court looking for a lawyer to represent his brother, Shabbir, a village leader who had been arrested under the highly controversial Public Safety Act (PSA), which among other things, allows detention without formal charge for up to two years.
But he was unable to find one. Ironically, the lawyers of the Jammu and Kashmir Bar Association in Srinagar – a body representing more than 2,200 professionals – have been boycotting the courts for more than 50 days over the arrest of their present and former presidents, Mian Abdul Qauyoom and Nazeer Ahmed Ronga.
Both men were arrested under the PSA and sent to two different prisons in distant Uttar Pradesh state for "advocating secessionism" – a move that some lawyers describe as a "political vendetta".
…
https://www.bbc.com/news/world-asia-india-49848899
https://www.outlookindia.com/website/story/india-news-arrests-under-psa-amount-to-thought-crime-say-kashmir-lawyers-as-100s-remain-under-detention/339932
https://defence.pk/pdf/threads/crackdown-on-lawyers-narrows-road-to-justice-in-kashmir.637097/
https://www.voanews.com/south-central-asia/thousands-begin-freedom-march-pakistan-held-kashmir-toward-disputed-border-india
https://www.protect-lawyers.com/fr/jammu-cachemire-inde-mobilisation-des-avocats-contre-la-repression-dans-la-region-du-cachemire/ (FRANCAIS)
Tagged: India, Jammu & Kashmir, Observatoire international des avocats en danger, Pakistan, United Nations