September 19, 2019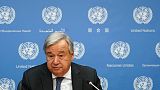 One-quarter of U.N. member states have carried out suspected reprisals against activists who cooperate with the world body on human rights issues, U.N. Secretary-General Antonio Guterres said on Thursday.
China, Egypt, Iran, and Vietnam were among states named in his annual report who rejected the allegations during a two-hour debate at the U.N. Human Rights Council.
"Acts of serious cruelty have continuously been reported against those who dare to come to the UN or share information with us – incommunicado detention, torture and ill-treatment, prolonged solitary confinement, and even deaths in custody," Andrew Gilmour, U.N. Assistant Secretary-General for Human Rights, told the Geneva forum in presenting the report.
Their family members, legal representatives, and witnesses were also being targeted, he said.
…
In China, activists and lawyers reported having been "targeted for attending training sessions" or engaging with U.N. human rights instruments, the report said.
"Reprisals reportedly included detention and prison sentences, ill-treatment while in detention, seizure of property and surveillance," it said.
It cited five cases including human rights lawyer Liu Zhengqing whom the government said in January had been disbarred on the grounds that his public defence statements had endangered national security.
…
https://www.euronews.com/2019/09/19/many-states-inflict-serious-cruelty-on-rights-activists-un
https://news.un.org/en/story/2019/09/1046832
https://www.hrw.org/news/2019/09/19/un-human-rights-council-should-address-chronic-reprisals-egypt