September 17, 2019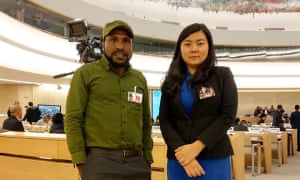 The Australian government has refused to rule out handing over a Sydney-based lawyer who advocates for West Papuans to Indonesian authorities.
Veronica Koman, an Indonesian human rights lawyer who currently lives in Australia, is being pursued by Indonesian police for disseminating evidence of police- and military-backed violence in West Papua.
Koman has been a credible source of eyewitness accounts, photos and footage of protests that have swept across West Papua and other Indonesian provinces in recent weeks.
Several people have reportedly died and dozens of others injured in violent clashes with Indonesian police, military and military-backed militia, which were sparked by the racist abuse of Papuan students in Java but have morphed into a demand for a referendum on West Papuan independence.
Koman faces charges under the country's controversial electronic information and transactions law, and faces up to six years in jail if found guilty.
East Java police spokesman Frans Barung Mangera told the Guardian that if Koman did not report to Indonesian authorities by 18 September, a red notice would be issued through Interpol for her arrest. "After that we will work with the international police," he said.
…
https://www.theguardian.com/world/2019/sep/17/australia-refuses-to-rule-out-handing-over-sydney-lawyer-who-advocates-for-west-papuans-to-indonesia
https://www.sbs.com.au/news/australia-does-not-rule-out-handing-over-human-rights-lawyer-to-indonesia
https://www.rnz.co.nz/international/pacific-news/398922/un-urges-indonesia-to-protect-koman
https://www.theaustralian.com.au/world/human-rights-lawyer-veronica-koman-breaks-silence-slams-indonesian-authorities/news-story/a799a0f29fca3fc59bed0983bf8a48ac
https://www.thejakartapost.com/news/2019/09/16/un-human-rights-experts-express-support-for-veronica-koman-in-papua-case.html
https://www.aljazeera.com/news/2019/09/west-papua-unrest-tests-indonesia-jokowi-term-begins-190911060733265.html
UN experts urge Indonesia to protect human rights defender Veronica Koman
https://www.malaysiakini.com/news/492392
https://www.cnnindonesia.com/internasional/20190917135734-134-431227/ahli-pbb-desak-ri-cabut-sangkaan-terhadap-veronica-koman (INDONESIAN)
Tagged: Australia, Indonesia, West Papua