August 30, 2019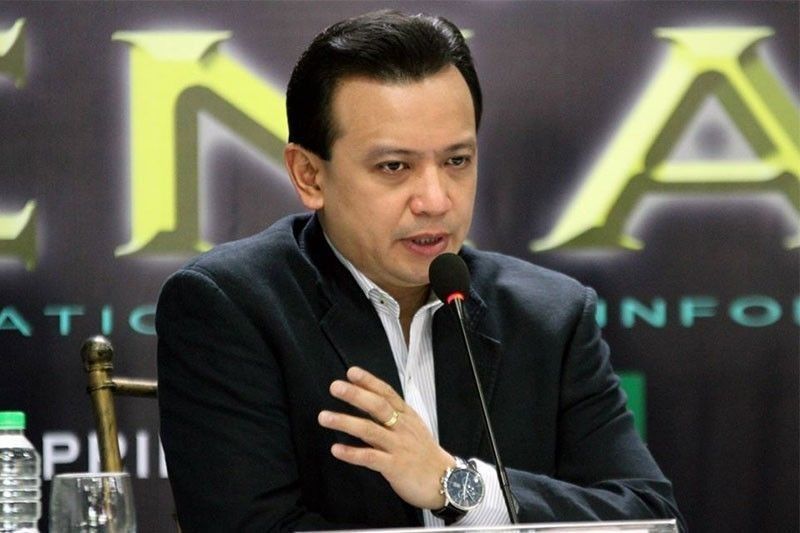 The Philippine National Police has filed kidnapping with serious illegal detention complaint against former Sen. Antonio Trillanes IV and three others.
The PNP-CIDG accused Trillanes of violating Article 267 of the Revised Penal Code over the alleged kidnapping of Guillermina Lalic Barrido, also known as Guillerma Arcillas.
Others named as respondents are Fr. Albert Alejo, lawyer Jude Sabio, a certain "Sister Ling" of the "Convent of Cannussian Sisters" in Makati City and other unidentified persons.
The order named in the CIDG complaint does not exist although there is a Canossian Daughters of Charity convent in Paco, Manila.
The complaint stemmed from Barrido's signed affidavit where she claimed that in December 2016, she was brought to a room in the "Convent of Cannussian Sisters" and was not allowed to leave.
Barrido said she was later transferred to a convent in Quezon City. She claimed she was accompanied by Alejo, Sister Ling and a certain Olivia, who is supposedly a member of the staff of Vice President Leni Robredo.
She said that Trillanes had repeatedly called her, telling her she cannot leave unless she signs the affidavit.
"It is clear from the foregoing that herein respondents feloniously, maliciously and intentionally put the complainant under detention for 14 days in order to force her to do something against her will," the PNP-CIDG said.
Trillanes: A clear case of harrasment
In a statement, Trillanes slammed the PNP's complaint as a clear case of "harrassment  and persecution of Duterte against his critics."
…
Sabio served as legal counsel of Matobato, man who has testified in the Senate that he was part of a hit squad that operated on Duterte's orders.
Sabio and Trillanes are among the parties that called the International Criminal Court's attention to alleged extrajudicial killings in the country under the Duterte administration.
…
https://www.philstar.com/headlines/2019/08/30/1947676/pnp-files-kidnapping-raps-vs-trillanes-3-others
https://www.philstar.com/headlines/2019/08/31/1947826/cidg-files-kidnap-rap-vs-trillanes
https://www.rappler.com/nation/238900-police-revive-witness-sue-trillanes-priest-kidnapping
https://news.abs-cbn.com/news/08/30/19/trillanes-faces-kidnap-rap-accused-of-forcing-trader-vs-duterte
https://news.abs-cbn.com/news/08/30/19/trillanes-refutes-kidnap-rap-cites-video-showing-victim-tagging-duterte
http://www.asianews.it/news-en/Priest-and-nun-accused-of-kidnapping-47872.html
https://www.rappler.com/thought-leaders/238385-political-dynasties-impossibility-of-democracy
https://www.philstar.com/pilipino-star-ngayon/bansa/2019/08/31/1947814/trillanes-4-pa-kinasuhan-ng-kidnapping (TAGALOG)
http://asianews.it/notizie-it/Manila,-sacerdote-e-suora-accusati-di-rapimento-47872.html (ITALIANO)
http://www.asianews.it/news-zh/%E7%A5%9E%E7%88%B6%E5%92%8C%E4%BF%AE%E5%A5%B3%E8%A2%AB%E6%8C%87%E6%8E%A7%E7%BB%91%E6%9E%B6-47872.html (CHINESE)
Tagged: The Philippines