August 26, 2019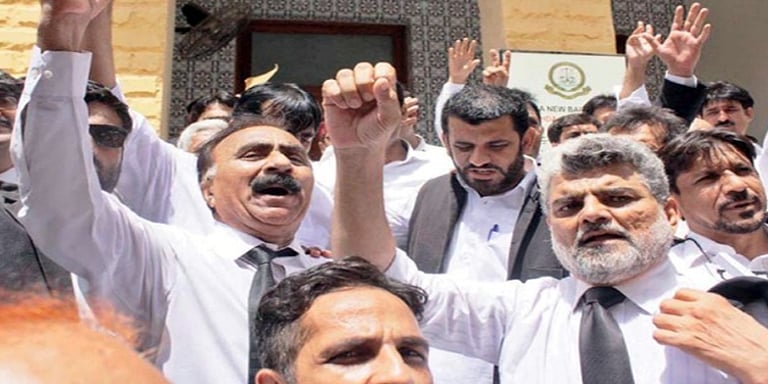 The lawyers on Saturday announced observing a strike across the country on August 26 against the government references against judges, alleged harassment of legal fraternity and the Indian aggression in Kashmir.
The All Pakistan Lawyers Convention by Karachi Bar Association at the City Courts decided that the lawyers throughout the country as well as in Gilgit Baltistan and Azad Jammu and Kashmir will boycott courts on Monday and hold protest meetings at the bar rooms.
A resolution was passed at the convention, saying the references against Supreme Court's Justice Faez Isa and Sindh High Court's Justice K.K. Agha were "frivolous, concocted and malafide" and are tantamount to an attempt to muzzle and subjugate the independence of the judiciary.
The lawyers demanded putting the petition filed by Justice Isa, the Pakistan Bar Council and the Supreme Court Bar Association against the references before a full court bench of the apex court for hearing by intelligible judges.
Criticizing the Supreme Judicial Council, they said they deprecated the language used against Justice Isa in the SJC Order disposing of reference no. 427 of 2019 and added the neutrality and impartiality of the SJC has come into question.
The lawyers also criticized Peshawar High Court's contempt of court notice to the PBC vice-chairman Syed Amjad Shah and condemned the alleged forced disappearance of former vice president of Multan High Court Bar Association Wasif Naveed Qureshi.
…
https://pk.shafaqna.com/EN/AL/262690
https://fp.brecorder.com/2019/08/20190825511351/
https://www.thenews.com.pk/print/518080-lawyers-observe-countrywide-strike
https://www.dawn.com/news/1501897/lawyers-boycott-courts-against-contempt-notice
https://www.thenews.com.pk/print/518086-lhcba-lba-concerned-over-contempt-notice-to-pbc-vice-chairman
https://www.thenews.com.pk/print/517919-contempt-notice-to-pbc-vice-chairman-kp-lawyers-observe-strike-some-say-none-above-law
https://fp.brecorder.com/2019/08/20190827512287/
https://tribune.com.pk/story/2043652/1-bench-bar-relationship-continues-fray/
https://defendlawyers.wordpress.com/2019/06/22/pakistan-day-of-the-endangered-lawyer-january-24-2020-pakistan/
Contempt notice issued by Chief Justice Peshawar High Court to Syed Amjad Ali Shah learned Vice Chairman Pakistan Bar Council on raising his voice against the induction of incompetent & ill reputed Judges.The purpose of issuing notice to esteemed Vice Chairman is to sabotage the Lawyers movement for the independence of the Judiciary.The Punjab Bar Council vividly decry this act. In condemnation of above, the Lawyers of Punjab would completely boycott the courts & would not appear in the Courts on 26-08-2019.
Ch. Shah Nawaz Ismail Gujjar
Vice Chairman
Punjab Bar Council
Mr. Iftikhar Ibrahim Qureshi
Chairman Executive Committee
Punjab Bar Council.
(Punjab Bar Council Facebook, 25/08/19)
Tagged: Avocats européens democrates, Day of the Endangered Lawyer, European Lawyers for Democracy and Human Rights, International Association of People's Lawyers, Pakistan