August 24, 2019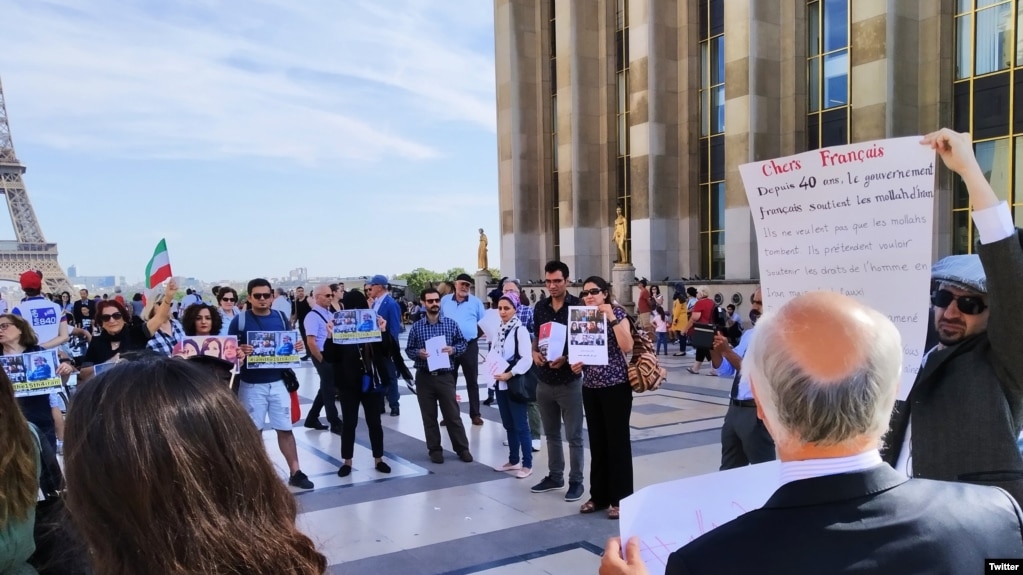 Hundreds of Iranians held separate rallies in Paris to protest the Islamic Republic Foreign Minister Mohammad Javad Zarif's visit to France.
Two demonstrations were held on Thursday and Friday, August 22-23, in the central areas of the French capital by the members of Mojahedin Khalq Organization (MKO) and royalists along with the secular republicans.
Both protests were organized ahead of the G7 summit, set to begin on Saturday night, August 24, in Biarritz, western France.
During the anti-Islamic Republic gathering by MKO, in Paris' Square du Trocadéro, the demonstrators chanted fiery slogans against the Islamic Republic's top diplomat.
"Kick out Zarif," "Zarif is a Terrorist, Expel him," read the banners held by the MKO members.
…
In the meantime, Macron met with world leaders and their representatives ahead of the Group of Seven summit which opens in the south-western French city of Biarritz on Saturday.
President Macron has personally invited renowned Iranian lawyer and human rights defender, Nasrin Sotoudeh, to participate in a G7 council for promoting human rights. Sotoudeh is currently serving a long prison sentence in Iran.
Last February, French President Emmanuel Macron named 35 attorneys, including prominent Iranian lawyer and civil rights activist Nasrin Sotoudeh, to give recommendations to the Group of Seven (G7) nations.
Sotoudeh's husband, who posted a copy of Macron's letter on his Facebook page, told the New York-based Center for Human Rights in Iran (CHRI), "Today [March 7] a legal representative from the French Embassy in Tehran gave me a letter from French President Emanuel Macron and the Group of Seven (G7)."
The letter was delivered to Khandan a day after it was disclosed that a Revolutionary Court in Tehran had convicted Sotoudeh on national security charges. "I am pleased to invite you to this initiative to advance real equality between women and men around the world," Macron wrote to Sotoudeh.
Sotoudeh's seat in the council in France will be vacant and adorned with a bouquet, while she is kept in Tehran's infamous prison, Evin.
https://en.radiofarda.com/a/iranian-groups-in-france-protest-zarif-visit-chanting-kick-him-out-/30127082.html
Mohammed Najafi, a Justice Department Lawyer, Ended his Hunger Strike
https://www.thelawyersdaily.ca/business/articles/14387/g7-leaders-urged-to-protect-lawyers-from-harm-ensure-ai-doesn-t-oust-human-decision-making-
https://en.wikipedia.org/wiki/Nasrin_Sotoudeh
https://abp.bzh/g7-avocats-2-48620 (FRANCAIS)
https://www.eldiario.es/murcia/disidencias-genero/velo-simbolo_6_935866419.html (ESPANOL)
https://www.adnkronos.com/fatti/cronaca/2019/08/27/nasce-woman-freedom-campagna-per-donne-iraniane_X5DQ3d5XDQfPIssCCDfEYJ.html (ITALIANO)
https://www.ilfattoquotidiano.it/2019/08/28/iran-essere-donne-qui-non-e-facile-cosi-litalia-risponde-alla-repressione/5411643/ (ITALIANO)
https://amnesty-duesseldorf.de/termin/solidaritaetsaktion-fuer-nasrin-sotoudeh/ (DEUTSCH)
Tagged: Day of the Endangered Lawyer, France, G7, Iran