August 10, 2019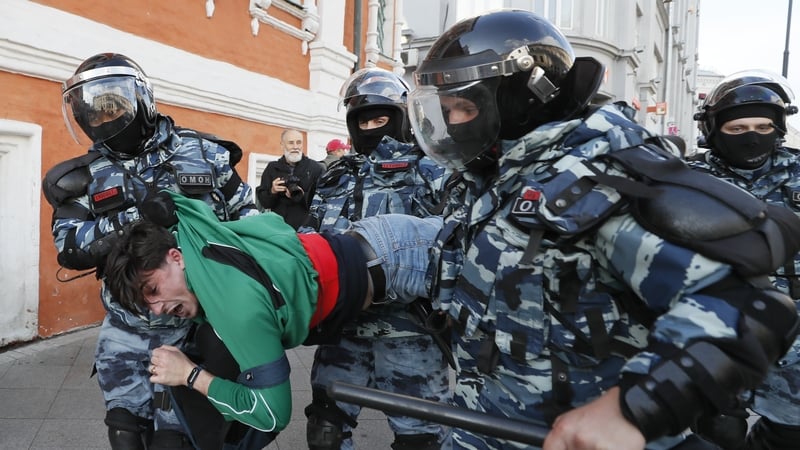 Nearly 50,000 opposition supporters rallied and dozens were arrested in Moscow at one of the largest authorised protests since President Vladimir Putin's return to the Kremlin in 2012.
Demonstrators crowded the central Prospekt Andreya Sakharova street, where city authorities deployed a massive police presence, including officers in riot gear, after giving permission for the rally to go ahead.
The White Counter, an NGO that tracks participants in rallies, counted 49,900 people, while Moscow police gave a much lower attendance figure of 20,000.
A total of 71 people were detained in Moscow and a further 80 were arrested in Russia's second-largest city of Saint Petersburg, according to OVD-Info, an NGO that monitors detentions at protests.
In recent weeks, thousands have attended street protests calling for free and fair elections after the exclusion of several opposition figures, including allies of top Putin critic Alexei Navalny, from local Moscow polls next month.
While the rally was authorised, Mr Navalny, who is currently in jail, had urged supporters to walk peacefully through the city afterwards.
…
The latest demonstration came this week as authorities mounted their harshest attack yet on Navalny's team, focusing on his anti-corruption foundation which publishes investigations of officials close to Mr Putin.
One of the foundation's lawyers, Lyubov Sobol, was detained Saturday at her campaign office by police in riot gear, she wrote on social media.
Riot police also raided the studio where Navalny's supporters were set to run a live broadcast of the protest, activists said.
On Thursday, investigators raided the foundation's office as part of a probe into alleged acceptance of donations of laundered money and a court froze the foundation's accounts.
…
https://www.rte.ie/news/2019/0810/1068125-russia-protest-arrests/
https://www.france24.com/en/20190810-thousands-rally-moscow-opposition-protest-crackdown
https://www.aljazeera.com/news/europe/2019/08/tens-thousands-rally-election-protest-moscow-190810143831955.html
https://www.rferl.org/a/russian-police-detain-sobol/30103214.html
https://news.sky.com/video/russian-opposition-activist-lyubov-sobol-films-herself-being-detained-11781905
https://www.dw.com/en/moscow-protests-pressuring-vladimir-putin-find-female-standard-bearer/a-49936204
https://www.voanews.com/europe/voa-exclusive-navalny-deputy-calls-assets-freeze-predictable-psychological-projection
https://en.wikipedia.org/wiki/Lyubov_Sobol
https://en.wikipedia.org/wiki/Alexei_Navalny
https://www.nouvelobs.com/monde/20190812.OBS17078/l-opposante-politique-russe-lioubov-sobol-filme-sa-propre-interpellation.html (FRANCAIS)
https://www.tdg.ch/monde/europe/Lioubov-Sobol-l-egerie-de-la-contestation-antiKremlin/story/19767448 (FRANCAIS)
https://www.bbc.com/mundo/noticias-internacional-49308856 (ESPANOL)
https://tg.la7.it/esteri/russia-arrestata-lyubov-sobol-lattivista-anti-putin-10-08-2019-141397 (ITALIANO)
https://www.agi.it/estero/proteste_mosca_arresti-6003893/news/2019-08-10/ (ITALIANO)
https://www.dw.com/pt-002/r%C3%BAssia-dezenas-de-milhares-em-protesto-por-elei%C3%A7%C3%B5es-livres/a-49979759 (PORTUGUES)
Tagged: Russia