August 9, 2019
Witness K and lawyer Bernard Collaery helped correct what they saw as a gross injustice. They now face jail time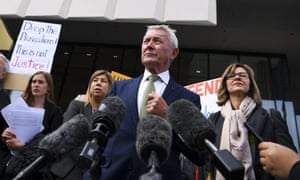 Peter Galbraith was playing a high-stakes game.
It was 2004 and, in the Dili heat, the distinguished US diplomat sat opposite Australian officials, bartering over a nation's future.
Timor-Leste's government, with Galbraith as its chief negotiator, was desperate to get a fair deal from the bountiful underwater oil and gas reserves that lay between it and Australia, a trusted ally and regional powerhouse.
Success would give it a significant share of fields worth $40bn-$50bn, helping lift the fledgling nation out of poverty. Failure would blow the tyres of an economy heavily reliant on natural resources.
The game, though, was rigged.
Unbeknownst to Galbraith, Australian Secret Intelligence Service (Asis) agents had been instructed to bug key offices of the Timor-Leste government. The listening devices would reveal Timor-Leste's bottom line, its negotiating tactics and the competing views of cabinet members.
…
Australia's actions would have been buried in perpetuity, had it not been for one Asis operative, known only as Witness K. The senior intelligence officer felt deeply uncomfortable about the operation, which was mounted during a heightened regional terror threat due to the 2002 Bali bombings. He eventually approached the intelligence watchdog, the Inspector General of Intelligence and Security (IGIS).
The spy obtained permission to talk to an approved lawyer, Bernard Collaery, a barrister and one-time attorney general for the ACT.
Collaery helped the Timor-Leste government build a case against Australia at The Hague, alleging the bugging had rendered the treaty void.
The revelations were splashed across mainstream media, first through the Australian, then the ABC.
In Timor-Leste, the pair were seen as heroes.
"Witness K, as the secret agent became known, and Collaery, are brave Australians," former Timor-Leste president José Ramos-Horta wrote last month while calling for the pair to be awarded his nation's highest honour. "Individuals with a conscience and courage, representing the very best of Australians as I know them – instinctively sympathetic to the underdog, the weak and vulnerable."
…
https://www.theguardian.com/australia-news/2019/aug/10/witness-k-and-the-outrageous-spy-scandal-that-failed-to-shame-australia
https://www.lawyersweekly.com.au/wig-chamber/26235-bernard-collaery-case-slammed-as-an-attack-on-the-legal-profession
http://en.rfi.fr/wire/20190806-aussie-ex-spy-offers-surprise-guilty-plea-leaking-east-timor-plot
https://www.theguardian.com/australia-news/2019/aug/06/witness-k-to-plead-guilty-in-timor-leste-spying-case-but-lawyer-to-fight-charges
http://theconversation.com/from-richard-boyle-and-witness-k-to-media-raids-its-time-whistleblowers-had-better-protection-121555
https://www.9news.com.au/national/a-current-affair-whistleblowers-witness-k-cases-show-australia-becoming-police-state-andrew-wilkie-warns/96a96898-f62d-4daf-84fd-5fd1f12e2351
https://theconversation.com/why-an-australian-charter-of-rights-is-a-matter-of-national-urgency-121411
https://en.wikipedia.org/wiki/Bernard_Collaery
http://mietspiegelnews.com/wirtschaft/Australian-Spion-schuldig-in-Ost-Timor-nervt-Fall-h29344.html (DEUTSCH)
http://www.dailyviewsonline.com/cultura/Australiano-spia-per-dichiararsi-colpevole-in-Timor-Est-intercettazioni-caso-h18174.html (ITALIANO)
https://www.rtp.pt/noticias/mundo/ex-espiao-australiano-que-denunciou-espionagem-a-timor-leste-vai-declarar-se-culpado_n1164907 (PORTUGUES)
Tagged: Australia, Timor Leste