August 6, 2019
The story of Attorney Maria Oviedo who went from being a victim of police mistreatment to an accused perpetrator.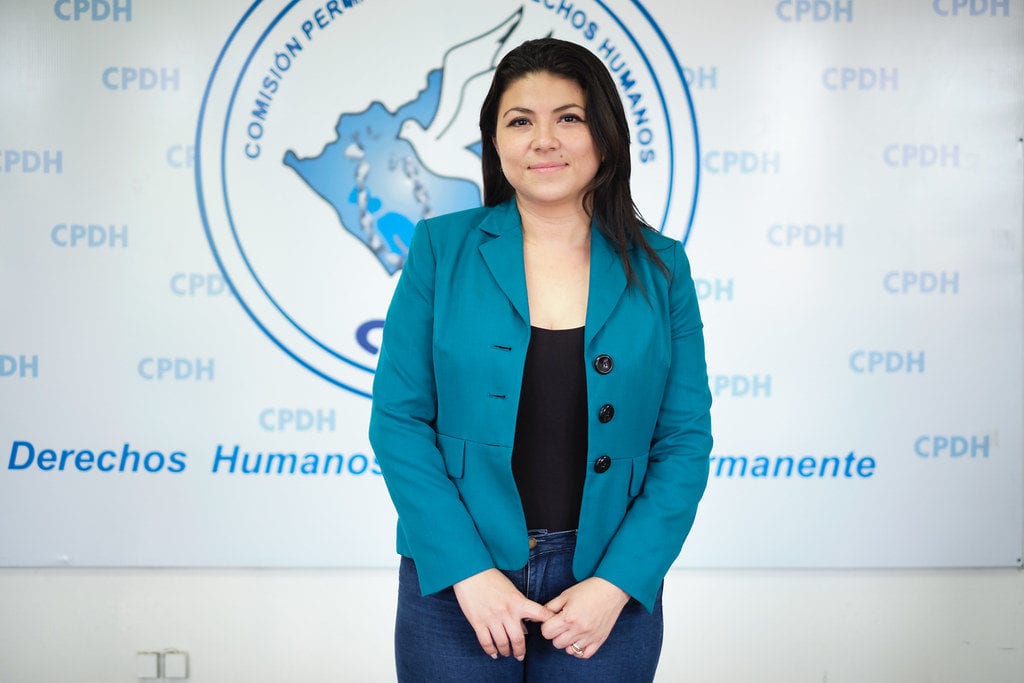 Lawyers for both current and released political prisoners have been targets of police harassment. Some now face biased legal processes, harassment, threats and attempts on their lives.
Lawyers of the current and released political prisoners in Nicaragua have now become targets of repression in the face of the de facto State of Siege imposed by the regime of Daniel Ortega and Rosario Murillo.
The most recent episode occurred on Friday, July 26 when attorney Maria Oviedo appeared in the Masaya police station for a routine matter, together with her client, released political prisoner Cristian Fajardo. Instead of processing her client's complaint, she was violently detained by police officials.  She then spent 52 hours in jail.
"From the moment that we arrived at the police station, we were treated grotesquely.
The attitude the police assumed towards us could practically be termed obscene, even though we've already become resigned to the mistreatment the defenders of human rights and the released prisoners receive in the police stations," noted Oviedo.
The lawyer asked Fajardo to leave in order to avoid a larger conflict. When she returned to pick up the documents she had requested be admitted, a police officer shoved her and others dragged her through a hallway within the police station.
"He said: 'Get out or I'll throw you out.' I repeated that I needed him to give me my documents, and that I wasn't leaving until he gave them to me. At that moment, the police official gave me a shove. I told him to please respect me, and after that you can see in the video what happened," the lawyer recounted.
Oviedo has been practicing law for 13 years. Before the April rebellion, she had been a prosecutor for the District Attorney's office, but she resigned due to the human rights violations being committed against the political prisoners that she now defends.
The human rights lawyer remained in jail for 52 hours. She declares that that experience made it clear that "the status of attorney means nothing to them."
…
https://www.laprensa.com.ni/2019/08/06/nacionales/2576535-gremio-de-abogados-independientes-hara-planton-en-solidaridad-con-la-activista-de-la-cpdh-maria-oviedo (ESPANOL)
https://www.laprensa.com.ni/2019/08/06/nacionales/2576311-leyla-prado-abogada-de-la-cpdh-denuncia-campana-de-odio-de-fanatico-orteguista (ESPANOL)
https://confidencial.com.ni/defensores-blanco-de-la-represion-orteguista/ (ESPANOL)
https://www.laprensa.com.ni/2019/07/31/nacionales/2574846-regimen-se-ensena-contra-abogada-maria-oviedo-denuncia-la-cpdh (ESPANOL)
https://maje.com.ni/entonces/3267-maria-oviedo-he-querido-declinar-dios-tiene-objeti/ (ESPANOL)
https://www.hoy.com.ni/2019/07/31/maria-oviedo-llego-a-firmar-a-los-juzgados-de-managua/ (ESPANOL)
http://diariometro.com.ni/nacionales/225673-piden-retirar-la-licencia-de-abogada-a-maria-oviedo-de-la-cpdh/ (ESPANOL)
https://www.elnuevodiario.com.ni/end-tv/11683-cpdh-acusa-policia-violar-derechos-abogada-maria-oviedo/ (ESPANOL)
http://www.canal10.com.ni/accion-10/la-corte-suprema-de-justicia-abrio-tramite-contra-la-abogada-maria-oviedo-53911 (ESPANOL)
Tagged: Nicaragua