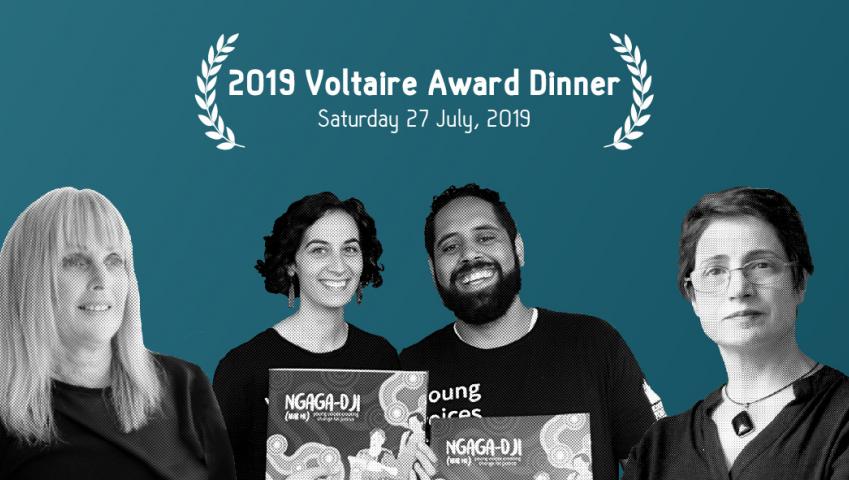 …
The Empty Chair Award – Nasrin Sotoudeh
Liberty Victoria honours Nasrin Sotoudeh with the Voltaire 'Empty Chair' Award 2019
Nasrin is an Iranian lawyer and human rights defender, renowned for her work representing abused women and children, dissidents, journalists, and people sentenced to death for offences committed as children.  Her courageous advocacy has brought her into contact with Iranian authorities on numerous occasions, and she has been harshly punished for her work as a human rights defender.
Ms Sotoudeh is currently serving a term of imprisonment for various offences against the Iranian regime, including providing legal representation to women prosecuted for refusing to wear the hijab or headscarf.  She was convicted in absentia.  Her record-breaking sentence amounts to 38 years in prison, and 148 lashes.
Ms Sotoudeh represents the very best qualities,  and embodies the immense risks, of human rights defenders around the world.
Liberty Victoria is proud to present the Voltaire Human Rights 'Empty Chair' Award to Nasrin Sotoudeh.  Her husband Reza Khandan will accept the award by video at the Voltaire Dinner in Melbourne on 27 July 2019.
Established in 2016, this award is presented to a person who is worthy to receive the Voltaire or Young Voltaire Award, but cannot be present to receive the award due to the consequences of their exercise of or advocacy for free speech. The 2016 Empty Chair Award was made to Saudi writer, dissident and political prisoner Raif Badawi.  In 2017, the recipient was Iranian cartoonist Ali Dorani aka 'Eaten Fish', until recently imprisoned on Manus Island. In 2018 the recipient was Behrouz Boochani, who is currently detained on Manus Island.
…
https://libertyvictoria.org.au/content/voltaire-award-dinner-2019
https://www.facebook.com/libertyvictoria/
Cannes Film Festival, Iranian Filmmakers Condemn Sentence Against Colleague Mohammad Rasoulof
https://www.theitem.com/stories/some-iranian-women-take-off-hijabs-others-push-back,330540
https://www.ncr-iran.org/en/news/iran-resistance/26521-live-coverage-major-free-iran-rally-today-in-london
https://www.lawgazette.co.uk/news/shortlist-announced-for-13th-law-society-excellence-awards/5071160.article
https://www.bloomberg.com/opinion/articles/2019-08-07/what-saudi-arabia-and-iran-could-do-for-women
https://en.wikipedia.org/wiki/Nasrin_Sotoudeh
https://www.mediapart.fr/journal/international/260719/iran-l-avocate-nasrin-sotoudeh-ecrit-depuis-sa-prison-pour-defendre-les-femmes?onglet=full (FRANCAIS)
https://www.cnb.avocat.fr/fr/avocats-mobilisation-pour-la-liberation-de-nasrin-sotoudeh-iran (FRANCAIS)
https://www.ncr-iran.org/fr/actualites/iran-protestations/21763-couverture-en-direct-rassemblement-pour-un-iran-libre-aujourd-hui-a-londres (FRANCAIS)
https://www.affiches-parisiennes.com/g7-les-avocats-porteront-20-propositions-9220.html (FRANCAIS)
http://www.ordre-grenoble.avocat.fr/2019/07/nasrin-sotoudeh-33-ans-demprisonnement-et-148-coups-de-fouet/ (FRANCAIS)
https://www.dici.fr/actu/2019/07/30/hautes-alpes-portrait-de-nasrin-sotoudeh-deploye-facades-conseil-departemental-1291719 (FRANCAIS)
https://www.avocats-hautes-alpes.fr/node/407 (FRANCAIS)
http://alpesdusud.alpes1.com/news/hautes-alpes/78604/hautes-alpes-une-banderole-deployee-pour-soutenir-l-avocate-iranienne-nasrin-sotoudeh (FRANCAIS)
https://www.ledauphine.com/hautes-alpes/2019/08/01/le-departement-affiche-son-soutien-a-une-avocate-iranienne-emprisonnee-nasrin-sotoudeh (FRANCAIS)
https://www.ram05.fr/wordpress/nasrin-sotoudeh-batonnier-lecoyer/ (FRANCAIS)
https://fr.wikipedia.org/wiki/Nasrin_Sotoudeh (FRANCAIS)
http://www.cciu.org.uy/news_detail.php?id=20488 (ESPANOL)
https://www.lavozdeasturias.es/noticia/opinion/2019/07/29/libertad-nasrin-sotoudeh/00031564413654314740302.htm (ESPANOL)
https://www.eldia.es/opinion/2019/07/31/nasrin-sotoudeh-148-latigazos-libertad/996844.html (ESPANOL)
https://www.ienesiciliane.it/articolo.php?aid=9721 (ITALIANO)
http://www.ilgiornale.it/news/politica/iran-cella-fino-10-anni-i-video-senza-hijab-1734005.html (ITALIANO)