July 18, 2019
The court also reminded the Nicaraguan State that "hindering the work of advocates, as well as ignoring the provisional measures determined by the Inter-American Court, constitute incompliance with your international obligations."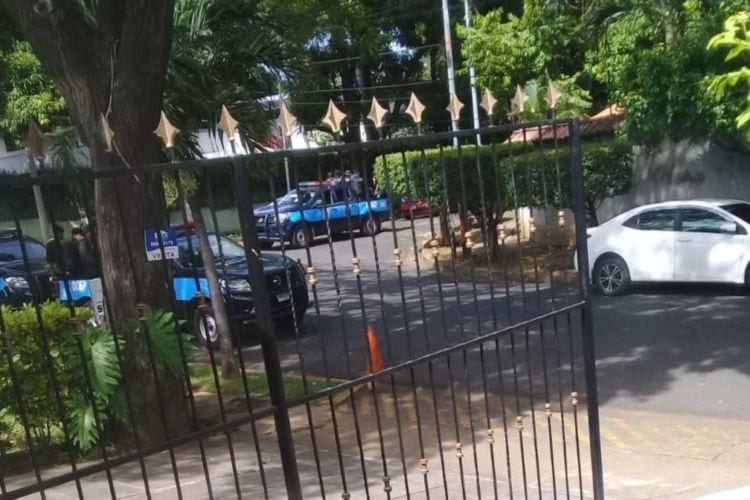 This Tuesday, July 17, the Inter-American Court of Human Rights posted on Twitter that they "urge an end to the harassment" of human rights defenders in Nicaragua.  The post referred to a recent episode where some six police patrol cars surrounded the building where the Defensores del Pueblo [People's Defenders] have their office. The group is made up of lawyers who defend the political prisoners of Daniel Ortega's regime.
They also reminded the State of Nicaragua that "hindering the work of [human rights] defenders, as well as disregarding the provisional measures determined by the Inter-American Court of Human Rights, constitute acts of incompliance with your international obligations."
The siege mounted against the lawyers began around 8:40 a.m. when six patrol vehicles, carrying some thirty members of the Police special forces, stationed themselves along the two access routes to the attorney's offices, essentially surrounding the installations. The offices, located in the Los Robles sector of Managua, are coordinated by Dr. Julio Montenegro.
Later, one of the police commanders began to take photos and videos of those entering and leaving the building. They also detained and took data from vehicles attempting to enter the access roads that lead to the back part of the building, Montenegro denounced.
According to Montenegro, the siege occurred because the lawyers were receiving five people who had been involved in the occupation of the National Autonomous University of Nicaragua (UNAN) in Managua between May and July of 2018.  These five were in the building to file a complaint regarding another five people who were detained the previous week.  One of these recent detainees, from the town of Sebaco, Matagalpa, is missing.
…
Nicaragua Urged to End Harassment of Attorneys Defending Political Prisoners
https://www.hrw.org/news/2019/07/10/step-toward-accountability-over-nicaraguas-brutal-crackdown
https://www.hrw.org/report/2019/06/19/crackdown-nicaragua/torture-ill-treatment-and-prosecutions-protesters-and
https://www.amnesty.org/en/latest/news/2019/06/el-gobierno-de-ortega-incumple-al-no-liberar-a-todas-las-personas-detenidas/
https://www.irishtimes.com/news/world/a-revolution-gone-wrong-dead-buried-exiled-stories-from-nicaragua-2019-1.3961516
http://www.canal10.com.ni/accion-10/julio-montenegro-exige-a-las-autoridades-informacion-sobre-edward-lacayo-53258 (ESPANOL)
https://ecodiario.eleconomista.es/global/noticias/10002174/07/19/Nicaraguenses-exigen-justicia-en-entierro-de-opositor-muerto-en-operativo-policial.html (ESPANOL)
https://maje.com.ni/entonces/3117-lado-humano-julio-montenegro-abogado-defensor-mani/ (ESPANOL)
https://www.laprensa.com.ni/2019/06/24/nacionales/2563022-abogado-julio-montenegro-pide-reprogramacion-de-juicio-para-periodista (ESPANOL)
https://maje.com.ni/entonces/3115-julio-montenegro-oea-nicaragua-podemos-identificar/ (ESPANOL)
Tagged: Amnesty International, Human Rights Watch, Inter-American Court of Human Rights, Nicaragua