July 9, 2019
Four years after the ruling Chinese Communist Party launched anationwide crackdown on the country's human rights lawyers, the country's rights attorneys say they are now being prevented from practicing law at all.
Hunan lawyer Xie Yang, who was initially detained on July 11, 2015, then tortured while being held under "residential surveillance at a designated location" in a government guesthouse, said human rights are as essential to human existence as food and drink.
"Dignity and justice are what make us human," Xie said. "[This is] not just [about] getting enough to eat."
Xie, who was subjected to abuse including deprivation of food and water, and tortured again after being moved to the police-run Changsha No. 2 Detention Center following his formal arrest on Jan. 9, 2016, said the crackdown has largely achieved what the authorities set out to do.
"The terror campaign waged against rights lawyers was clearly prettyeffective, because now the majority of of [human rights] cases can't find an appropriate lawyer to represent them," he said.
"The vast majority of lawyers have been controlled via the system of annual license renewals and other methods."
…
https://www.rfa.org/english/news/china/709-lawyers-07092019150415.html
https://www.theepochtimes.com/us-eu-urge-china-to-release-rights-lawyers-on-anniversary-of-mass-arrests_2995770.html
https://eeas.europa.eu/headquarters/headquarters-homepage_en/65180/Statement%20by%20the%20Spokesperson%20concerning%20human%20rights%20defenders%20and%20lawyers%20in%20China
https://news.rthk.hk/rthk/en/component/k2/1467490-20190709.htm
http://www.thestandard.com.hk/breaking-news.php?id=131005&sid=4
https://www.taiwannews.com.tw/en/news/3742153
https://www.aa.com.tr/en/asia-pacific/eu-urges-china-abide-international-law-on-709-crackdown/1527224
https://www.europeaninterest.eu/article/european-union-expects-china-respect-rights-citizens/
https://cn.ambafrance.org/Statement-by-the-Spokesperson-concerning-human-rights
https://www.euronews.com/2019/07/10/slovakias-new-president-takes-aim-at-chinas-rights-record
https://www.chinaaid.org/2019/07/dr-bob-fu-four-years-after-709-incident.html
http://www.jeromecohen.net/jerrys-blog/how-the-chinese-government-crushed-rights-lawyer-wang-quanzhang
https://www.caixinglobal.com/2019-07-25/rights-lawyer-fights-decision-to-revoke-license-101443847.html
https://en.wikipedia.org/wiki/709_crackdown
https://cn.ambafrance.org/Communique-de-l-Ambassade-de-France-en-Chine-sur-le-4eme (FRANCAIS)
https://www.lavanguardia.com/politica/20190709/463383368181/ong-pide-a-china-el-fin-del-hostigamiento-contra-abogados-de-ddhh.html (ESPANOL)
https://www.dw.com/de/alle-sind-vorsichtiger-geworden/a-49513921 (DEUTSCH)
【「709大抓捕」進展通報】
截至2019年7月8日18:00,至少321名律師、律所人員、人權捍衛者和家屬被約談、傳喚、限制出境、軟禁、監視居住、逮捕
 判決結案:4名監獄服刑:①周世鋒律師 ②胡石根 ③吳淦 ④王全璋律師;3名緩刑:①李和平律師 ②勾洪國(戈平)③翟岩民;7名刑滿釋放:①劉星(老道)②張衛紅(張皖荷)③姚建清 ④李燕軍 ⑤王芳 ⑥尹旭安 ⑦江天勇律師;1名免於刑事處罰:①謝陽律師
 取保候審解除:
12名律師:①王秋實 ②黃力群 ③隋牧青 ④謝遠東 ⑤李姝雲 ⑥王宇 ⑦包龍軍 ⑧任全牛 ⑨劉四新 ⑩李春富 ⑪謝燕益 ⑫張凱;4名律師助理:①劉鵬 ②方縣桂 ③高月 ④趙威(考拉);1名律所人員:①王芳;4名維權人士:①劉永平(老木)②林斌(望雲和尚)③唐志順 ④幸清賢;5名教會人士: ①嚴曉潔 ②黃益梓 ③張崇助 ④張制 ⑤程從平
分類統計(律師、律師助理/其他人士):
判決結案:15人(5/10)
解除取保候審:26人(16/10)
撤銷指控:1人(1/0)
限制出境 :46人(31/15)
被短暫拘留/強制約談/傳喚(已獲釋):265人(125/140)
*注:其中25人同時被歸類在兩個分類;2人同時被歸類在三個分類。
42個進入刑事訴訟程序的個案詳細資料:
https://docdro.id/m26LUT5
321名受影響人士的分類統計:
https://docdro.id/m2bUR7f
(China Human Rights Lawyers Concern Group / 中國維權律師關注組 Facebook, 11/07/19)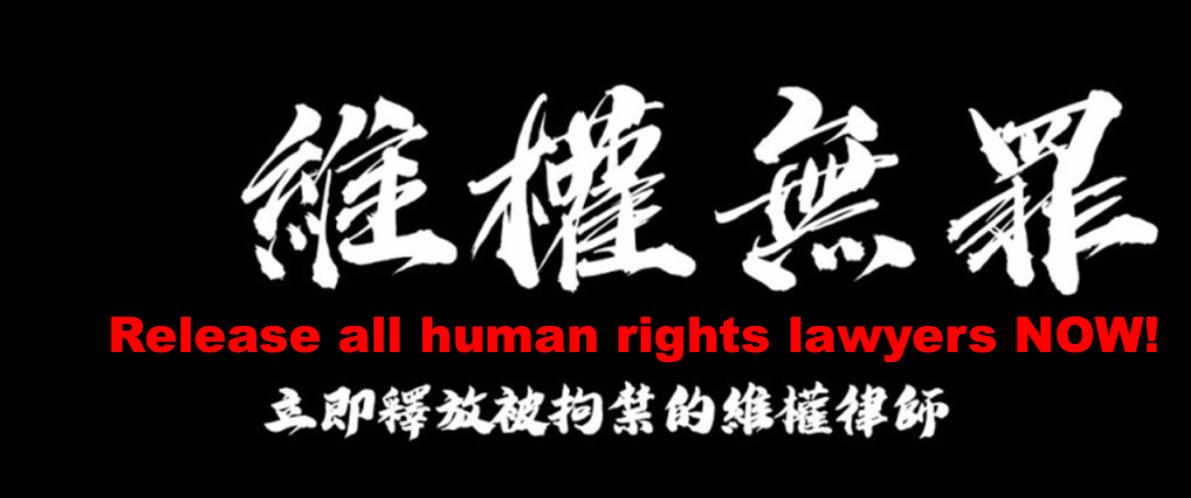 Tagged: China, European Union, Hong Kong, USA