June 28, 2019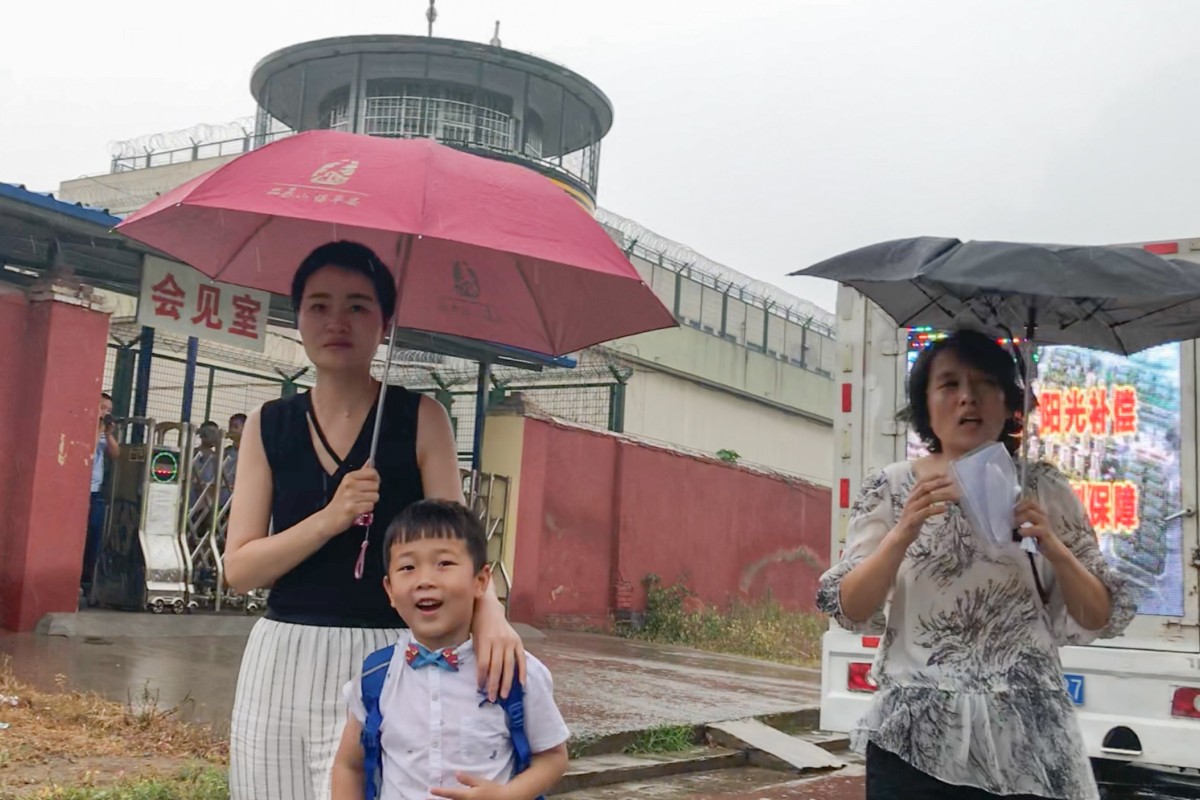 The wife and son of the Chinese human rights lawyer Wang Quanzhang were finally allowed to see him on Friday – for the first time since he was detained four years ago under a sweeping crackdown.
Li Wenzu, who was finally allowed into the prison's reception area at 2pm, walked out an hour later in tears, although their six-year-old son Wang Guangwei rejoiced in the fact that he had finally seen his father after a four-year separation.
"He is a totally changed man … he was so agitated and anxious that I couldn't even talk to him just then," Li said.
"His head was clean-shaven, he had lost about 30 pounds (13.5kg), his skin was darkened and his memory was hazy. He had a list of written things to tell us, saying he had been treated well, but he couldn't even recall what he had for lunch today," she added.
Wang was among hundreds of human rights lawyers and legal activists rounded up by Beijing during the so-called 709 crackdown in 2015 – the event took its name from the date on which it started, July 9 – and was the last of them to be tried.
…
https://www.scmp.com/news/china/politics/article/3016499/chinese-human-rights-lawyer-wang-quanzhang-gets-see-his-wife
https://www.scmp.com/video/china/3016563/detained-chinese-human-rights-lawyer-wang-quanzhang-finally-allowed-meet-family
https://www.channelnewsasia.com/news/asia/jailed-china-rights-lawyer-allowed-to-see-wife-after-four-years-11671112
https://www.washingtonpost.com/opinions/2019/05/29/chinese-lawyer-remains-isolated-prison-we-must-join-his-wife-demanding-justice/
https://www.theguardian.com/world/2019/jun/28/chinese-human-rights-lawyer-wang-quanzhang-totally-changed-man-after-jail
Jailed China rights lawyer Wang Quanzhang allowed to see wife after four years
https://www.theepochtimes.com/wife-of-disappeared-chinese-rights-lawyer-gao-zhisheng-to-attend-hong-kongs-july-1-protest_2984249.html
https://en.wikipedia.org/wiki/Wang_Quanzhang
https://news.rthk.hk/rthk/ch/component/k2/1465551-20190628.htm (CANTONESE)
https://hk.news.appledaily.com/local/daily/article/20190702/20718399 (CANTONESE)
https://thestandnews.com/china/%E7%88%AD%E5%8F%96%E5%9B%9B%E5%B9%B4%E7%B5%82%E7%8D%B2%E5%87%86%E6%8E%A2%E6%9C%9B%E7%8E%8B%E5%85%A8%E7%92%8B-%E6%9D%8E%E6%96%87%E8%B6%B3-%E6%80%A7%E6%83%85%E5%A4%A7%E8%AE%8A-%E6%93%94%E5%BF%83%E4%B8%88%E5%A4%AB%E7%8D%84%E4%B8%AD%E5%8F%97%E5%A3%93%E6%B4%97%E8%85%A6-%E8%A8%98%E8%80%85%E6%8E%A1%E8%A8%AA%E8%A2%AB%E6%89%93/ (CHINESE)
http://www.lefigaro.fr/flash-actu/chine-un-avocat-autorise-a-voir-sa-femme-apres-4-ans-de-detention-20190628 (FRANCAIS)
https://www.laopinion.net/abogado-chino-encarcelado-recibira-primera-visita-de-su-esposa-en-4-anos/ (ESPANOL)
(China Human Rights Lawyers Concern Group / 中國維權律師關注組 Facebook, 28/06/19)
Tagged: China