May 20, 2019
Ozcan Keles accused of spreading propaganda, in latest targeting of Erdoğan critics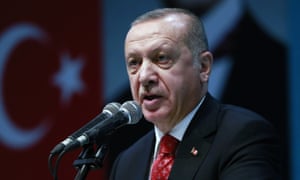 A British barrister who has given evidence to parliament is facing possible extradition to Turkey on terrorism charges over his Twitter activity.
Ozcan Keles, who is of Turkish descent and holds UK citizenship, appeared at Westminster magistrates court on Monday accused of spreading propaganda online.
The attempt to remove him is the latest in a series of high-profile extradition actions in the British courts against critics or opponents of the Turkish president, Recep Tayyip Erdoğan.
All cases to date have been thrown out on the grounds that they are politically motivated or that Turkey's prison system breaches human rights. The most recent involved a media proprietor, Hamdi Akın İpek.
The Home Office has a duty to certify that extradition requests are legitimate, but has rubber-stamped a stream of Turkish claims that involve the police, Crown Prosecution Service (CPS) and the courts in lengthy and ultimately unsuccessful actions.
…
https://www.theguardian.com/law/2019/may/20/british-barrister-facing-extradition-to-turkey-over-tweets
https://ahvalnews.com/gulen-movement/turkey-seeks-extradition-gulenist-briton-guardian
https://www.bbc.com/news/uk-36873532
Turkey seeks extradition of British-Turkish lawyer on trumped-up terrorism charges
https://www.ozcankeles.org/about/
http://www.sussex.ac.uk/profiles/372821
Rights defender, newspaper staff given prison sentences for terrorist propaganda
Human rights lawyer Eren Keskin sentenced to 4 years on terror charges
UK lawyer briefly under arrest over Turkish extradition request alleging Gülen links
The arbitrary detention and long-term imprisonment of 18 lawyers
https://www.turkeylitigationsupport.com/
http://www.diken.com.tr/ozgur-gundem-davasinda-avukat-eren-keskin-ve-gazetecilere-ceza-yagdi/ (TURKCE)