May 20, 2019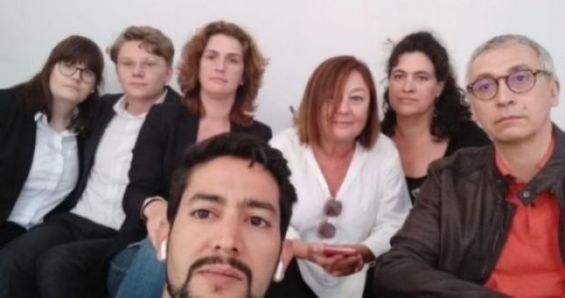 Five Spanish lawyers were expelled, Sunday, by the Moroccan authorities after they arrived at Laayoune airport, Europa Press reports.
Maria Dolores Travieso, a lawyer defended pro-Polisario activist Aminatou Haidar in the past, Ruth Sebastian Garcia, Lourdes Baron, Ramon Campos and Sidi Mohamed Taleb Buya were accompanied by two Norwegian observers from an NGO called Rafto, said the agency.
These seven people went to the Sahara as «observers for the trial of Nezha Khalidi, who is affiliated to Equipe Media group in Laayoune».
The decision of the Moroccan authorities was denounced, Sunday, by pro-Polisario platform Futuro Sahara.
On Thursday, New York-based NGO Human Rights Watch (HRW) slammed the Moroccan authorities in a statement, for «using a law designed to keep people from falsely claiming professional credentials to bring criminal charges against people trying to expose abuses».
…
https://en.yabiladi.com/articles/details/78518/sahara-morocco-expels-seven-people.html
https://www.hrw.org/news/2019/05/16/morocco-law-misused-silence-reporters
https://en.yabiladi.com/articles/details/78361/human-rights-watch-denounces-arrest.html
https://www.hrw.org/middle-east/n-africa/morocco/western-sahara
https://www.ft.com/content/f27754de-4288-3cf0-98b1-73bd7440bbf4
https://www.abogacia.es/2019/05/20/el-consejo-general-de-la-abogacia-protesta-por-la-expulsion-de-marruecos-de-una-delegacion-de-abogados-observadores-de-derechos-humanos/ (ESPANOL)
https://www.lavanguardia.com/vida/20190520/462372686147/el-consejo-general-de-la-abogacia-protesta-por-la-expulsion-injustificada-de-cinco-espanoles-del-sahara.html (ESPANOL)
https://www.elespanol.com/espana/politica/20190520/incertidumbre-habitacion-sotano-retenido-abogados-espanoles/399960836_0.html (ESPANOL)
https://www.cope.es/actualidad/internacional/noticias/cinco-abogados-espanoles-retenidos-marruecos-mas-horas-20190520_417982 (ESPANOL)
https://www.elconfidencial.com/espana/2019-05-19/marruecos-prohibe-sahara-abogados-espanoles_2009886/ (ESPANOL)
https://telquel.ma/2019/05/20/sept-observateurs-europeens-expulses-par-les-autorites-a-laayoune_1639018/?utm_source=tq&utm_medium=normal_post (FRANCAIS)
https://www.yabiladi.com/articles/details/78500/sahara-maroc-expulse-sept-personnes.html (FRANCAIS)
https://www.lesiteinfo.com/maroc/le-maroc-expulse-cinq-avocats-espagnols/ (FRANCAIS)
https://www.algeriepatriotique.com/2019/05/20/sept-observateurs-internationaux-expulses-par-le-maroc/ (FRANCAIS)
https://www.huffpostmaghreb.com/entry/un-groupe-davocats-espagnols-et-norvegiens-detenus-au-maroc-depuis-plus-de-24-heures_mg_5ce2b320e4b09e0578088d23 (FRANCAIS)
https://www.bladna.nl/marokko-spanjaarden-noren-uitzetting,25505.html (NEDERLAND)
Tagged: Human Rights Watch, Morocco, Spain