April 26, 2019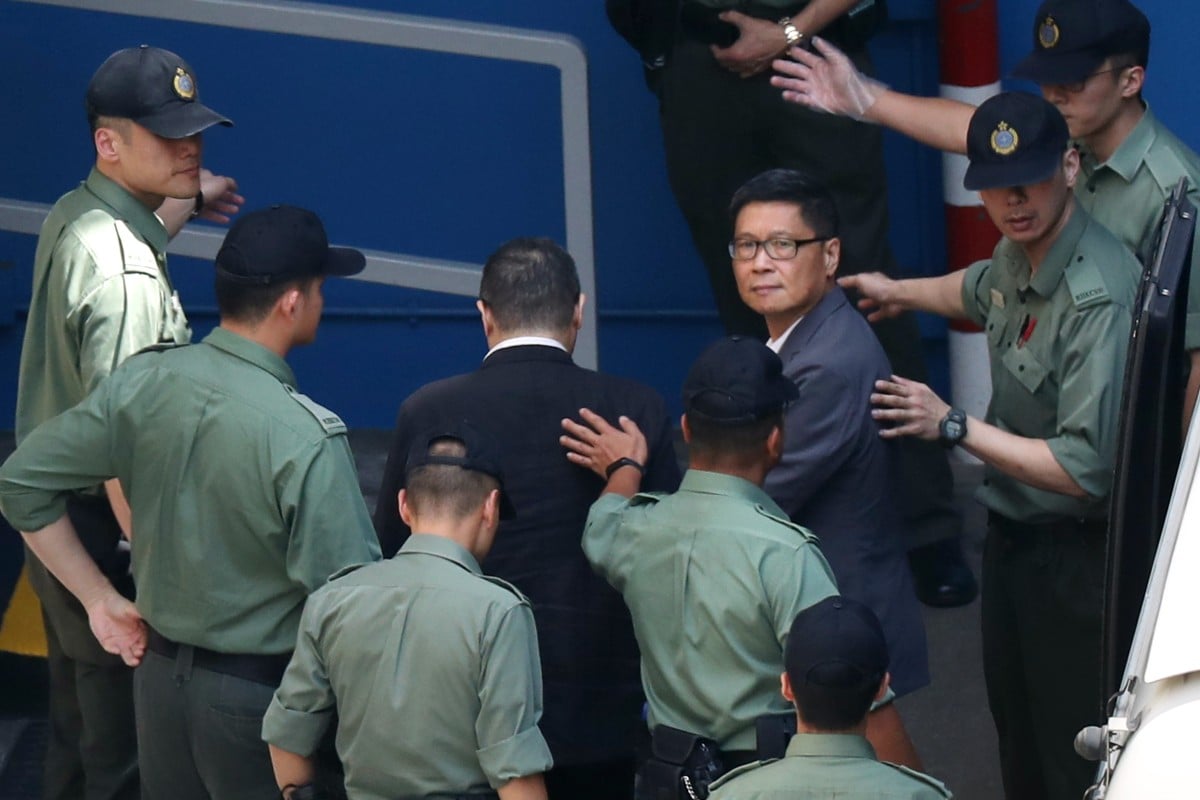 Four jailed leaders of the Occupy movement are expected to be sent to different penal institutions on Saturday at the earliest, with at least three likely to be sent to maximum security prisons, according to law enforcement sources.
News of their removal came as two top legal scholars urged the University of Hong Kong not to launch disciplinary proceedings against one of the convicted leaders, law professor Benny Tai Yiu-ting, until the appeal process had finished.
Tai, 54, was jailed for 16 months alongside Chan Kin-man, 60, while League of Social Democrats vice-chairman Raphael Wong Ho-ming, 30, and lawmaker Shiu Ka-chun were both jailed for eight months for their roles in the 2014 protests.
…
Meanwhile, Tai, could face a disciplinary hearing at HKU, as lawmaker Junius Ho Kwan-yiu renewed calls for the university to sack the academic. The university has so far declined to comment on what action, if any, it is taking.
Former law dean Albert Chen Hung-yee said Tai's criminal conviction was severe enough to trigger a disciplinary inquiry.
"We would wish to support him, but there is little colleagues can do on the matter of disciplinary inquiry," Chen said.
His two successors, Johannes Chan Man-mun and Michael Hor Yew Meng, said the university should wait until all court proceedings have finished.
"A disciplinary proceeding premised on a conviction, which is then successfully appealed from, will itself be undermined, and have to be reopened," Hor said.
"So, as a matter of prudence, it would be advisable to await the exhaustion of appeals."
Acting dean Fu Hualing said he and some HKU law student representatives would be willing to give their views if a disciplinary proceeding was opened in future.
…
https://sg.news.yahoo.com/occupy-ringleaders-sent-maximum-security-134410017.html
https://www.scmp.com/news/hong-kong/politics/article/3007893/occupy-ringleaders-be-sent-maximum-security-prisons
Occupy ringleaders to be sent to maximum security prisons, as scholars call on University of Hong Kong to delay disciplinary proceedings against Benny Tai
https://www.wsj.com/articles/professor-who-inspired-hong-kongs-mass-protests-is-sent-to-jail-11556099967
https://www.scmp.com/comment/insight-opinion/article/3007696/dont-sack-benny-tai-promote-him-instead
https://www.scmp.com/news/hong-kong/politics/article/3007536/will-academic-benny-tai-and-hong-kong-lawmaker-shiu-ka-chun
https://www.bbc.com/news/av/world-asia-china-48034513/benny-tai-hong-kong-jailed-activist-to-come-back-stronger
The Umbrella Movement jailings: How opportunistic, made-to-measure charges got the job done
China: Nine Activists Wrongfully Convicted for Peaceful Pro-democracy Advocacy | Letter
https://en.wikipedia.org/wiki/Benny_Tai