February 28, 2019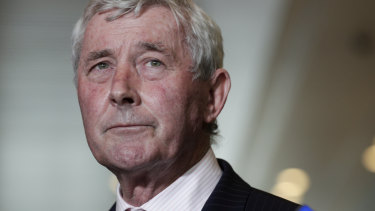 A jury could hear the controversial prosecution of a former spy known as "Witness K" and his lawyer who are both accused of revealing information about the Australian government spying on East Timor, a court has been told.
But before the question of any committal or possible jury trial could be decided, on Thursday a preliminary hearing in the case to be heard in secret was set down for August.
Tim Begbie, for the Commonwealth, said that since the matter was last in court Attorney-General Christian Porter had issued certificates under the National Security Information Act over the brief of evidence.
He said that, in broad terms, the certificates permitted the brief of evidence to be disclosed subject to certain restricted circumstances such as where it can be viewed.
He said there was also an unclassified version of the brief.
Because the Attorney-General has issued those certificates, the matter is headed for a closed court preliminary hearing in the ACT Magistrates Court to consider how sensitive material will be dealt with.
Mr Begbie passed to the court a set of proposed orders leading up to the hearing.
The preliminary hearing was set down for August 6, 7, and 8 this year.
But also raised in the course of Thursday's mention in the ACT Magistrates Court was the possibility of a committal to the ACT's higher court, which both lawyers for Witness K and Canberra lawyer Bernard Collaery flagged.
Mr Collaery's barrister, Christopher Ward SC, said they were considering the question of a jury trial but were not yet in a position to decide because they had not been able to sit with their client and review the evidence.
…
https://www.canberratimes.com.au/national/act/east-timor-spy-scandal-jury-could-hear-collaery-witness-k-case-20190228-p510xz.html
https://independentaustralia.net/life/life-display/the-illegal-bugging-of-the-timor-leste-cabinet,12411
https://en.wikipedia.org/wiki/Bernard_Collaery
Tagged: Australia, Timor Leste