le 21 janvier, 2019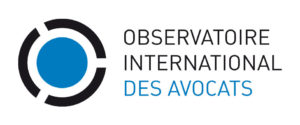 L'Observatoire International des Avocats en danger, le SAF, la FNUJA et L'Association des Avocats Européens Démocrates appellent les avocats à se mobiliser pour manifester leur solidarité avec leurs confrères turcs, victimes de mesures de représailles, de harcèlement et d'emprisonnement de la part des autorités.
Rassemblement prévu à 13 h devant l'ambassade de Turquie 13 avenue de Lamballe 75016 PARIS.
https://avocats-valdemarne.com/le-barreau/dernieres-actus/665-jeudi-24-janvier-2019-9e-journee-de-l-avocat-en-danger
http://www.avocatparis.org/ma-formation/agenda-des-evenements/9eme-journee-internationale-de-lavocat-en-danger
https://www.facebook.com/events/454631258402998/
https://www.cnb.avocat.fr/fr/actualites/journee-internationale-de-lavocat-en-danger-rassemblement-pour-les-avocats-turcs-menaces
http://www.idhae.org/OBSAV-DEL190124-TUR.htm?fbclid=IwAR2lT2R_herNRCBWt1zG_ma-sTKaPBW0id9a1EBmy0Z2LDZk1w6CvqL60iw
https://osce.delegfrance.org/9eme-journee-internationale-de-l-avocat-en-danger-Grave-repression-des-avocats
http://www.collectifvan.org/article.php?r=0&id=100024
https://www.franceinter.fr/emissions/dans-le-pretoire/dans-le-pretoire-10-novembre-2017
https://eldh.eu/en/2018/11/22/day-of-the-endangered-lawyer-2019/
Updated Report: Incarceration of Turkish Lawyers | Unjust Arrests and Convictions (2016-2018)
https://eldh.eu/fr/2018/11/22/day-of-the-endangered-lawyer-2019/
#24OcakTehlikedekiAvukatlarGünü
#24thJanuaryEndangeredLawyersDay
Communiqué
9ème journée internationale de l'avocat en danger
Grave répression des avocats en Turquie :
une centaine d'avocats condamnés en 2018
La 9ème édition de la journée internationale de l'avocat en danger se tiendra le 24 janvier 2019. Elle est consacrée cette année aux avocats en Turquie.
En soutien à ces avocats, un rassemblement aura lieu en robe le jeudi 24 janvier de 13h à 14h –Place de la Bolivie- à proximité de l'ambassade de Turquie afin d'appeler les autorités turques à cesser cette vaste opération de répression et de criminalisation des avocats et de toutes les voix critiques et d'encourager les autorités européennes à réagir de manière énergique à ces attaques à l'encontre de l'Etat de droit et des principes démocratiques.

L'Association des avocats européens démocrates à l'origine de la création de cette journée, le Barreau de Paris, le Conseil national des barreaux, Défense sans frontière-Avocats Solidaires, l'Institut des droits de l'Homme des avocats européens, Avocats sans Frontières et l'Observatoire international des avocats en danger se mobilisent chaque jour pour soutenir leurs confrères en Turquie. Des missions d'observations judiciaires sont organisées ainsi que l'accompagnement de nos confrères contraints de s'exiler.
Turquie : une situation difficile depuis plusieurs années.
En novembre 2011, 46 avocats ont été détenus pour certains pendant 2 ans et demi, accusés d'avoir assuré la défense d'Abdullah Öcalan.  En janvier 2013, 22 avocats qui assuraient leur défense dans cette affaire, membres de l'association des avocats progressistes (CHD), ont été arrêtés à leur tour. En novembre 2015, le Bâtonnier de Diyarbakir, Tahir Elçi, a été assassiné en pleine rue.
En 2012, la 2ème édition mettait déjà la lumière sur ce même pays, certainement l'un des pays au monde où les avocats sont les plus menacés. Depuis le coup d'Etat de juillet 2016 en Turquie, la situation déjà difficile des avocats, s'est considérablement aggravée comme pour les journalistes, défenseurs des droits de l'homme, magistrats et activistes politiques.
Les décrets qui ont été adoptés lors de l'Etat d'urgence ont permis de fermer certaines organisations d'avocats
Selon le rapport du bureau du Haut-Commissariat pour les droits de l'homme des Nations Unies, fin 2017 environ 570 avocats avaient été arrêtés, 1470 faisaient face à des poursuites et 79 avaient été condamnés à de longues peines de prison. Dans la plupart des cas, les avocats sont accusés de lien avec l'organisation de Gülen.
Au moins 14 présidents de Barreaux ont été arrêtés et détenus. En 2018, plus de 100 avocats ont été condamnés.
Document complet :
http://www.protect-lawyers.com/oiad-content/uploads/2019/01/wa_bdp_avocat-en-danger_a4.pdf
Pour plus d'information
Observatoire international des avocats en danger : https://www.protect-lawyers.com/fr/
Défense sans frontière – Avocats solidaires : http://www.defensesansfrontiere.org/
Institut des droits de l'Homme des avocats européens : http://www.idhae.org/
Avocats Européens démocrates : http://www.aeud.org/tag/aed/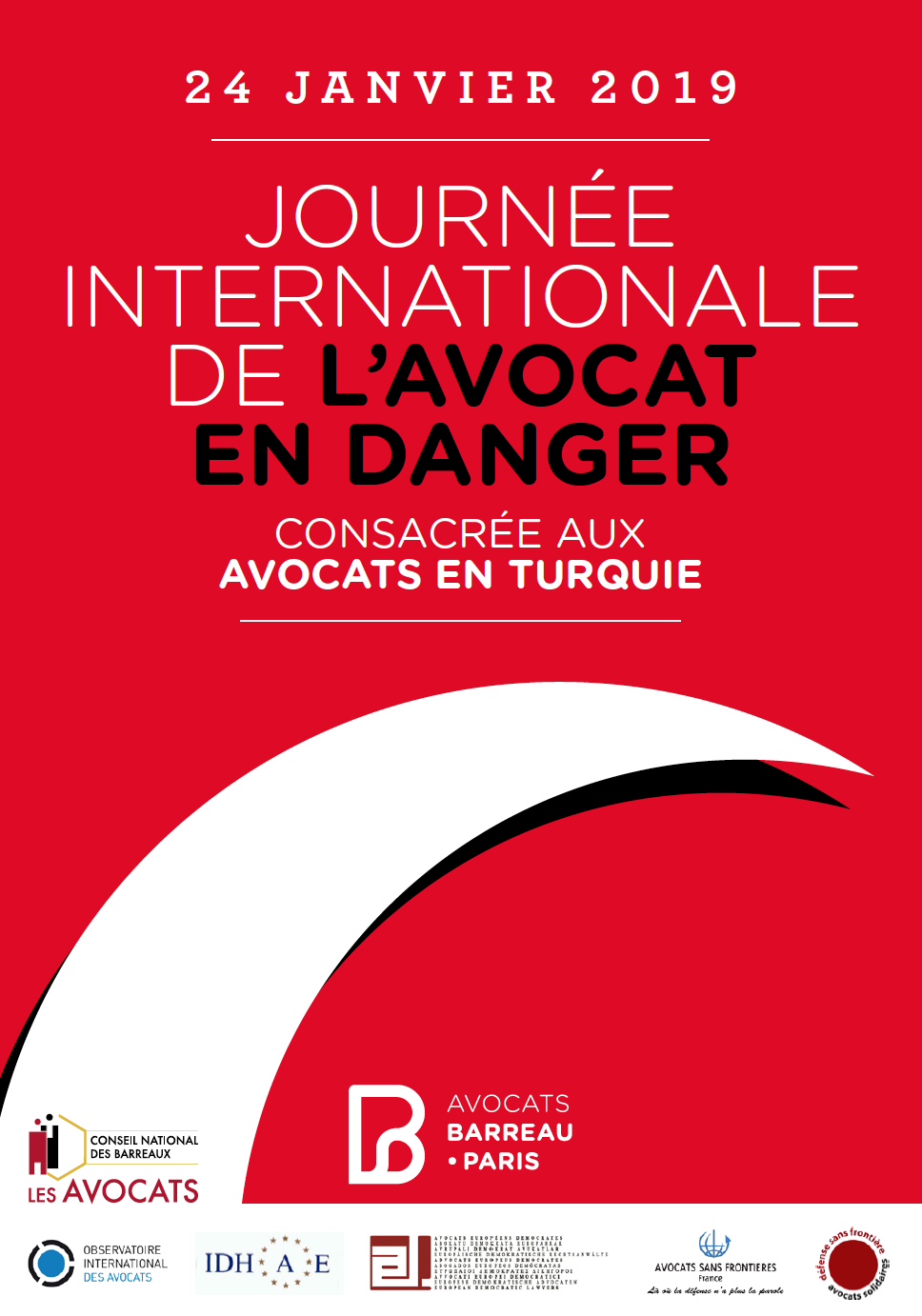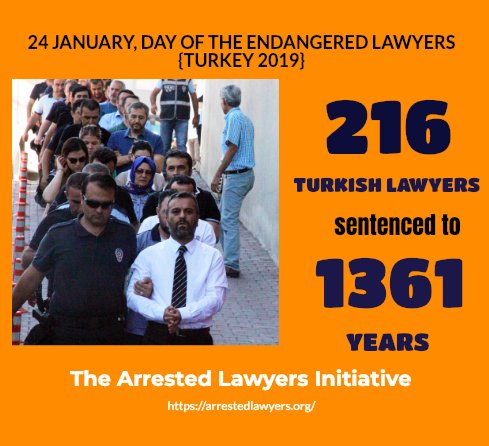 Tagged: Avocats européens democrates, Day of the Endangered Lawyer, France, Turkey