11/01/19
Un año más, celebramos el Día del Abogado Amenazado para visibilizar las amenazas, asesinatos, hostigamientos y ataques que nuestros compañeros y compañeras de profesión sufren en todo el mundo por defender los derechos de la ciudadanía.
Una campaña de Avocats Européens Démocratescon el apoyo de la Fundación del Consejo General de la Abogacía Española y numerosos colegios de abogados de toda Europa.
Este año lo dedicaremos a Turquía. El informe sobre la situación de nuestros colegas turcos/as lo puedes leer/descargar aquí: http://ala.org.es/dia-del-abogado-amenazado-2019-turquia/
https://eldh.eu/en/2018/11/22/day-of-the-endangered-lawyer-2019/
Updated Report: Incarceration of Turkish Lawyers | Unjust Arrests and Convictions (2016-2018)
https://masslawyersweekly.com/2019/01/10/honoring-our-brave-colleagues-on-endangered-lawyer-day/
La Fundación Jesús Pereda junto a CCOO de Zamora y de Palencia mantienen viva la "Memoria de Atocha", el asesinato hace ya 42 años de cinco abogados laboralistas de CCOO y del PCE por parte de un grupo de pistoleros de extrema derecha.
Una conversación con Alejandro Ruiz-Huerta, uno de las cuatro personas supervivientes, recuperará el significado de aquellos hechos dramáticos y ofrecerá una mirada sindical al presente y hacia el futuro.
Será en Zamora el 28 de enero a las 11h00 y en Palencia ese mismo día a las 19h00, en las respectivas sedes de CCOO.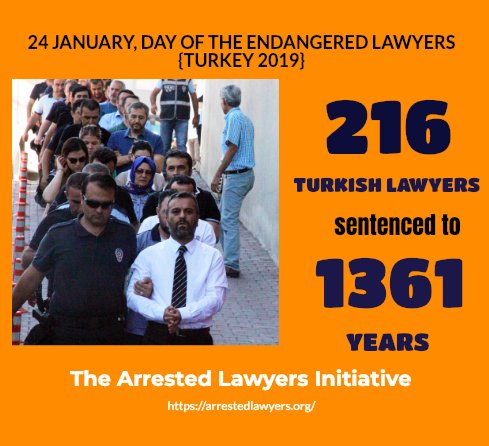 Tagged: Arrested Lawyers, Avocats européens democrates, Day of the Endangered Lawyer, IDHAE, Spain, Turkey