08/01/19
İstanbul 12. Ağır Ceza Mahkemesi'nin savunmasını beğenmediği avukat Muhittin Köylüoğlu hakkında verdiği "Zorla Bakırköy Ruh ve Sinir Hastalıkları Hastanesi'ne yatırılması" kararı üst mahkeme tarafından bozuldu. Köylüoğlu'nun reddi hâkim talebi de kabul edildi.
İstanbul Adliyesi girişinde arama yapmak isteyen özel güvenlik görevlileriyle tartıştığı için avukat Muhittin Köylüoğlu hakkında "Hakaret" ve "Özel güvenlik görevlilerine mukavemet" suçlamasıyla dava açıldı.
İstanbul 12. Ağır Ceza Mahkemesi'nde görülen ilk duruşmada savunma yapan Köylüoğlu, "Yargılanmamın esas nedeni benim mesleki anlayışım. Hâkim ve savcıların odaları arandı. Ketıllarına el konuldu. Hâkim kararı olmadan arama ve el koyma kararına tek bir hâkim tepki vermedi. Kendi mesleki onurlarını korumadılar" diye konuştu. Mahkeme heyeti, savunması kesilen ve duruşma salonundan atılan Köylüoğlu'nun "Meslektaşlarını aşağılayarak kendi mesleki konumunu ve rüçhaniyetini ortaya koymaya çalıştığını bu yaklaşımın sağlıklı bir ruh halini yansıtmadığını" öne sürdü. "Avukatlık hakları konusunda takıntı seviyesinde hassasiyet" gösterdiği iddia edilen Köylüoğlu'nun savunmasında "paranoid ve şizofreni rahatsızlığını çağrıştıran durumlar olduğu" öne sürülerek "Zorla Bakırköy Ruh ve Sinir Hastalıkları Hastanesi'ne yatırılmasına" karar verildi.
…
http://m.t24.com.tr/haber/savunmasini-begenmedigi-avukata-akil-hastanesine-yatirilmasi-karari-veren-mahkeme-heyeti-hakkindaki-reddi-hakim-talebi-kabul-edildi,793978?fbclid=IwAR16EgSejdqk-fCJgnEErk3Ou_nClI07NDPs5gTkwJP7RQ7RqsVfWbdH9hQ
http://www.cumhuriyet.com.tr/haber/turkiye/1194332/Savunmasini_begenmedikleri_avukata_akil_hastanesi_cezasi.html
https://www.artigercek.com/haberler/akil-hastanesine-yatirilsin-diyen-mahkeme-heyetine-davadan-el-cektirildi
https://stockholmcf.org/turkey-ranks-110th-among-160-countries-in-the-economists-democracy-index/?fbclid=IwAR2vVByfRb8fwGrQjy5Gb0rR1QEf_tONMIpTDHsW6G9YFt8d_4FO7po_hfI (ENGLISH)
La 2ème chambre du tribunal d'İstanbul ordonne l'hospitalisation pour « toubles mentaux » de l'avocat Muhittin Köylüoğlu auquel elle reproche sa « sensibilité obsessionnelle quant aux droits liés à l'exercice de la profession d'avocat »
(L'Observatoire des Avocats Facebook, 09/01/19)
N.B.: The Second Chamber of the Istanbul Court ordered the involuntary hospitalization of lawyer Muhittin Köylüoğlu due to his "mental problems" resulting from his "obsessional sensitivity concerning his rights to practise the profession of lawyer".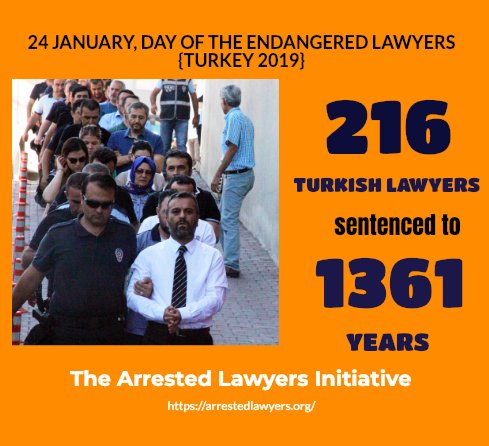 Tagged: Day of the Endangered Lawyer, Turkey