December 17, 2018
German-Turkish lawyer was sent fax telling her to leave or risk her daughter being killed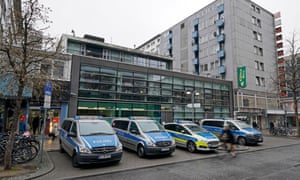 German prosecutors are investigating a suspected neo-Nazi cell within the Frankfurt police force that is thought to have sent a German-Turkish lawyer a message threatening to kill her two-year-old daughter.
Five police officers – four men and a woman – have been suspended on suspicion of exchanging far-right and racist messages in a chat group and sending the note to the lawyer, Seda Basay-Yildiz, this summer.
The anonymous message, which arrived by fax at Basay-Yildiz's law firm in August, told her to leave Germany or risk the "slaughter" of her daughter. The note included the lawyer's home address and was signed "NSU 2.0", apparently a reference to the National Socialist Underground terror cell responsible for the murder of 10 people – nine of them from immigrant backgrounds – in Germany between 2000 and 2007.
Basay-Yildiz represented one of the victim's families in the five-year trial of the sole surviving NSU member, Beate Zschäpe, who in July this year received a life sentence.
Basay-Yildiz has previously defended suspected Islamists, and she told the Frankfurter Allgemeine Zeitung (FAZ) paper she was used to receiving threats. However, the fax was the first to include her home address and to threaten her child.
A police internal investigation found that an officer's computer at a station in Frankfurt had accessed a confidential database to obtain Basay-Yildiz's address shortly before the fax was sent. Phones belonging to police officers on duty at the time were confiscated, revealing that a number of them had been exchanging far-right and racist messages in a chat group.
The officers have now been suspended pending the results of an investigation by Hesse's state criminal office.
…
https://www.theguardian.com/world/2018/dec/17/five-german-police-suspended-over-neo-nazi-threat-to-lawyer
https://ahvalnews.com/racism/germany-suspends-five-police-officers-threatening-turkish-german-lawyer-murder
https://www.independent.co.uk/news/world/europe/german-police-neo-nazi-cell-seda-basay-yildiz-lawyer-death-threat-daughter-frankfurt-a8687731.html
https://www.trtworld.com/europe/how-german-police-officers-anonymously-threatened-a-german-turkish-lawyer-22557
https://www.dw.com/en/german-state-probes-frankfurt-police-extremist-network-report/a-46765959
https://www.dw.com/en/opinion-neo-nazis-in-germanys-police-put-out-the-fire/a-46794541
https://www.newsarticleinsiders.com/nsu-2-0-the-uncertainty-authorities
http://www.spiegel.de/panorama/justiz/frankfurt-drohbrief-gegen-seda-basay-yildiz-kompromisslos-fuer-den-rechtsstaat-a-1244132.html (DEUTSCH)
https://www.zeit.de/gesellschaft/zeitgeschehen/2018-12/rechtsextremismus-frankfurter-polizei-verdacht-ermittlungen (DEUTSCH)
http://www.fr.de/frankfurt/seda-basay-yildiz-kampf-dem-staatlichen-rassismus-a-1640158 (DEUTSCH)
http://www.tekk.tv/deutschland/rechtsextreme-polizisten-bedrohen-tuerkische-nsu-anwaeltin/ (DEUTSCH)
http://www.hurriyet.com.tr/avrupa/alman-polisinde-tehlike-canlari-41055475 (TURKCE)
https://www.sabah.com.tr/avrupa/2018/12/18/neo-nazi-polisler-turkleri-tehdit-ediyor (TURKCE)
https://www.mediapart.fr/journal/international/181218/une-cellule-d-extreme-droite-au-sein-de-la-police-francfort/commentaires (FRANCAIS)
https://www.letemps.ch/une-cellule-dextreme-droite-sein-police-francfort (FRANCAIS)
https://www.lavanguardia.com/internacional/20181217/453609945025/suspendidos-policias-alemanes-amenaza-neonazi-abogada.html (ESPANOL)
https://www.ilsole24ore.com/art/mondo/2018-12-18/la-germania-e-piaga-neonazismo-polizia-all-europarlamento-170525.shtml?uuid=AE4BHp1G&refresh_ce=1 (ITALIANO)
https://myprivacy.persgroep.net/?siteKey=6OfBU0sZ5RFXpOOK&callbackUrl=https://www.demorgen.be/privacy-wall/accept?redirectUri=/buitenland/mogelijk-link-tussen-extreemrechtse-terreur-en-duitse-politie-baa59bc8/ (VLAAMS)
https://www.terra.com.br/noticias/alemanha-investiga-rede-extremista-na-policia-de-frankfurt,dc039c43e1330615babea7a56faa7ec1qvnrlvf4.html (PORTUGUES)