November 26, 2018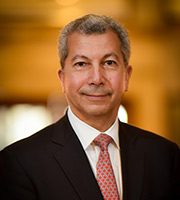 President's Column, November 2018
Imagine we woke up one day to find that our esteemed bar association, founded in 1870, had suddenly been terminated by decree. All the assets of our association, including operating accounts, long-term capital investments, and real estate, had been confiscated. The members of our Executive Committee, the chairs of our various committees, and our leadership staff had been arrested and were facing severe criminal prosecution.
The recent report of the United Nations Special Rapporteur on the Independence of Judges and Lawyers reveals that the above scenario is happening around the world.
In Turkey, 34 lawyers' associations, in fact, were shut down by decree and had their assets confiscated without compensation following Turkey's declaration of a state of emergency in June 2016. The chairs, board members, and many regular members of those associations were prosecuted and imprisoned. In China, more than 300 detentions, summonses, travel bans, and other restrictions have been imposed on lawyers and law firm staff since July 2015.
It's not a new phenomenon. Where liberal democracy is on the retreat, lawyers are often among the first casualties, and history is replete with examples. In Cambodia in the 1970s, the Khmer Rouge systematically murdered anyone who wore glasses, believing this an effective method for targeting members of the educated elite, including attorneys. In 2014, the City Bar hosted an exhibit co-sponsored by the German Federal Bar and the ABA called "Lawyers Without Rights: Jewish Lawyers in Germany Under the Third Reich." The project that inspired the exhibit uncovered the fates behind a list of lawyers whose licenses had been revoked by the Nazi regime. "Some were able to leave the country after the Nazis came into power, but very many of them were incarcerated or murdered," said Axel Filges, president of the German Federal Bar. "The non-Jewish German lawyers of those days remained silent. They failed miserably, and so did the lawyers' organizations. We do not know why."
Obviously these are history's extreme cases, but the City Bar is determined to learn from and not to repeat the failures of the past. We, therefore, must stand up for the rule of law wherever it is threatened.  It's why several of our committees – including those on International Human Rights, Asian Affairs, and African Affairs, and our Council on International Affairs – have consistently spoken out on behalf of lawyers and judges around the world. Further, it's why the City Bar recently established a standing Task Force for the Independence of Lawyers and Judges.
Since its creation, the Task Force has put on panels and Great Hall events highlighting crackdowns on lawyers, judges, and bar associations around the world, advocated on their behalf, and taken part in the global "Day of the Endangered Lawyer," on January 24.
…
https://www.nycbar.org/media-listing/media/detail/on-the-independence-of-lawyers-judges-and-bar-associations-by-roger-juan-maldonado
https://www.ohchr.org/en/issues/judiciary/pages/idpindex.aspx
https://www.ohchr.org/FR/Issues/Judiciary/Pages/IDPIndex.aspx (FRANCAIS)
Tagged: Arrested Lawyers, China, Day of the Endangered Lawyer, Germany, National Union of People's Lawyers, New York City Bar, The Philippines, Turkey, UN Special Rapporteur on the Independence of Judges and Lawyers