November 9, 2018
Application for open court hearing to judge national security information in Timor-Leste spying case turned down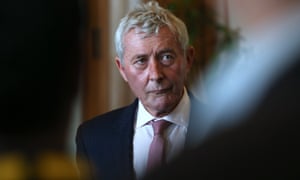 The undisclosed brief of evidence against Witness K and lawyer Bernard Collaery is set to be the subject of a closed court hearing to judge national security information in the prosecution of the pair for disclosing the fact Australia spied on Timor-Leste.
On Friday whistleblower Witness K and Collaery suffered a setback, with the ACT magistrates court refusing their applications to have an earlier open court hearing on whether protected information in the case is likely to prejudice Australia's national security.
Prosecutors in the case have given notice the crown's brief of evidence is expected to disclose national security information, and as a result the court and defendants are yet to see the brief pending a decision on how to handle it.
That notice is likely to trigger the attorney general, Christian Porter, to issue a certificate of non-disclosure which leads to a closed hearing for the court to make its own judgment about whether information is likely to prejudice national security.
The chief magistrate, Lorraine Walker, told the court that laws granting a closed hearing could be "clearly potentially prejudicial to the defendants" because lawyers for the defendants "may not be entitled to be present" if they do not have a security clearance.
https://www.theguardian.com/australia-news/2018/nov/09/secret-witness-k-brief-to-be-debated-in-closed-court-magistrate-rules
https://www.news.com.au/national/breaking-news/spying-case-in-hands-of-attorneygeneral/news-story/70ed7ea2d60526201fba087c1a680a0e
https://www.smh.com.au/national/act/question-of-closed-hearing-in-east-timor-bugging-case-waits-on-attorney-general-20181109-p50ez2.html
https://www.canberratimes.com.au/national/act/question-of-closed-hearing-in-east-timor-bugging-case-waits-on-attorney-general-20181109-p50ez2.html
https://www.canberratimes.com.au/national/act/question-of-closed-hearing-in-east-timor-bugging-case-waits-on-attorney-general-20181109-p50ez2.html
https://www.crikey.com.au/2018/11/13/labor-abandons-the-intelligence-oversight-issue/
https://www.crikey.com.au/2018/11/15/witness-k-bernard-collaery-trial/
https://en.wikipedia.org/wiki/Bernard_Collaery
https://www.collaerylawyers.com.au/
Tagged: Australia, Timor Leste