November 6, 2018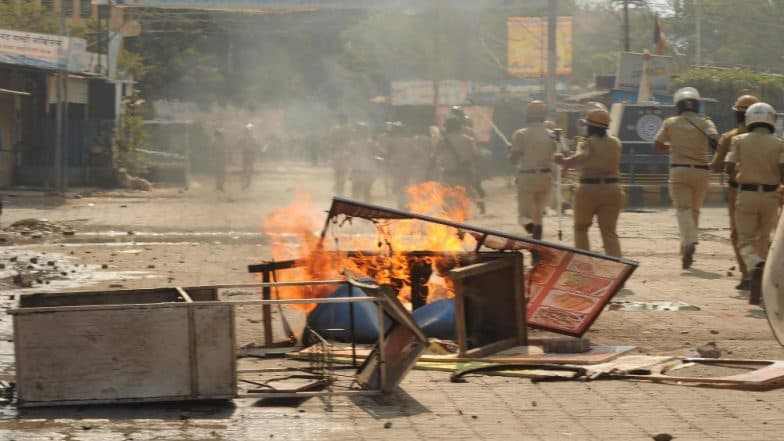 Activists Sudha Bhardwaj, Arun Ferreira and Vernon Gonsalves, all three accused in Bhima Koregaon violence case have been sent to judicial custody for 14 days by Pune Sessions Court. According to an ANIupdate, one of the accused Ferreira alleged in Court that he was beaten up during custodial interrogation. He said on November 4 during the interrogation that he was slapped about eight to ten times by police officials and that on November 5, he was taken to hospital as well. Bhima Koregaon Case: Supreme Court Stays Bombay HC Order Refusing Extension of Time to Police to File Chargesheet.
The Pune Police had arrested lawyer Surendra Gadling, Nagpur University professor Shoma Sen, Dalit activist Sudhir Dhawale, activist Mahesh Raut and Kerala native Rona Wilson in June for their alleged links with Maoists under the Unlawful Activities (Prevention) Act (UAPA)
The arrests had followed raids at their residences and offices in connection with the Elgar Parishad conclave held in Pune on December 31 last year, which, the police had claimed, had led to violence at Bhima Koregaon the next day. After the arrest of the activists in August, historian Romila Thapar had moved a petition in the Supreme Court saying the police crackdown is linked to the left-leaning viewpoints of the activists.
…
https://www.latestly.com/india/bhima-koregaon-case-sudha-bhardwaj-arun-ferreira-and-vernon-gonsalves-sent-to-police-custody-for-14-days-474691.html
https://www.dnaindia.com/india/report-pune-sessions-court-sends-sudha-bhardwaj-arun-ferreira-and-vernon-gonsalves-to-14-days-judicial-custody-2683271
http://www.asianage.com/metros/mumbai/061118/plea-in-hc-seeks-judicial-custody-for-activists.html
https://www.oneindia.com/india/bhima-koregaon-case-three-accused-sent-to-judicial-custody-for-14-days-2804245.html
https://sabrangindia.in/article/arun-ferreira-alleges-being-slapped-during-police-investigation-bhima-koregaon-case?fbclid=IwAR3refoCXUp7tAKAN8Ew6JOacJxGIFceXhNxEfE3oajO0uvhtXYERqPzRNk
https://timesofindia.indiatimes.com//articleshow/66530140.cms?utm_source=facebook.com&utm_medium=social&utm_campaign=TOIMobile
https://scroll.in/latest/901413/amnesty-india-asks-maharashtra-to-investigate-arun-ferreiras-claim-that-police-beat-him-in-custody?fbclid=IwAR3u4fx_5Ua3pz2ABxz58ZKHhHa7_O-i4-WaiyFhdNrE3AOwsGf7DP8lc04
https://www.dailypioneer.com/2018/page1/world-body-calls-urban-naxals-rights—-defenders.html
https://theleaflet.in/bhimakoregaonarrests-timeline-of-a-terrifying-state-sponsored-farce/?fbclid=IwAR2OJ2FPqHsbd8a2xu1CkZSiRuvlqKUxk7ItJnzza5W5_MylFGeNir41rIA
https://en.wikipedia.org/wiki/Arun_Ferreira
https://www.loksatta.com/maharashtra-news/one-of-the-accused-arun-ferreira-alleged-in-court-that-he-was-beaten-up-during-custodial-interrogation-1785299/ (HINDI)
https://hindi.oneindia.com/news/india/sudha-bhardwaj-arun-and-vernon-accused-in-bhima-koregaon-violence-sent-to-judicial-custody-for-14-da-480011.html (HINDI)
Tagged: India