September 12, 2018
Far-right extremists suspected to be behind bullet note sent to Luigi Patronaggio, say sources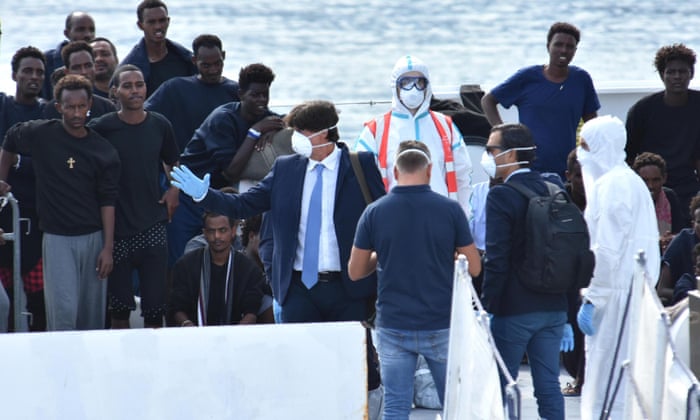 The prosecutor who placed the Italian interior minister, Matteo Salvini, under investigation over the illegal detention of migrants has received a death threat, sources have told the Guardian.
Believed to be the work of far-right extremists, an envelope containing a bullet was sent to the office of the chief prosecutor of the Sicilian city of Agrigento, Luigi Patronaggio, on Wednesday alongside the note: "You are under fire."
The envelope was stamped with the symbol of a Gladius sword, a mark often used often by military groups close to far-right movements.
Patronaggio placed Salvini, who also leads the far-right League party, under investigation for the kidnapping and detention of 177 migrants after he refused to allow them to disembark the coastguard ship Ubaldo Diciotti last month.
The ship had been docked for six days at the Sicilian port of Catania as Salvini maintained a standoff with the EU in an attempt to push other member states to take in the migrants. The Catholic church, Ireland and Albania, which is not an EU state, eventually agreed to host the mostly Eritrean migrants.
…
https://www.theguardian.com/world/2018/sep/12/italian-prosecutor-matteo-salvini-investigation-receives-death-threat-bullet
https://www.theguardian.com/world/2018/aug/25/matteo-salvini-formally-investigated-over-migrant-ship-standoff
http://www.ansa.it/english/news/politics/2018/09/12/agrigento-prosecutor-sent-threat-bullet_03caae66-af97-464c-9341-0383387182c0.html
https://www.ilmessaggero.it/primopiano/cronaca/diciotti_migranti_minacce_morte_procuratore_agrigento_patronaggio-3968996.html (ITALIANO)
https://www.liberoquotidiano.it/news/cronaca/13376707/inchiesta-diciotti-minacce-di-morte-a-procuratore.html (ITALIANO)
https://www.blogsicilia.it/agrigento/minacce-di-morte-al-pm-patronaggio-una-lettera-con-proiettile-recapitata-in-uffici-procura/452746/ (ITALIANO)
http://www.ansa.it/sicilia/notizie/2018/09/12/minacce-morte-a-capo-procura-agrigento_0966db2d-3b7f-420e-b6f7-a2eec5ca98e8.html (ITALIANO)
http://www.teleacras.com/wp1/2018/09/12/lettera-di-minacce-di-morte-al-procuratore-patronaggio/ (ITALIANO)