July 17, 2018
Claim made in appeal against acquittal of Martyn Day over handling of claims UK soldiers killed captured Iraqis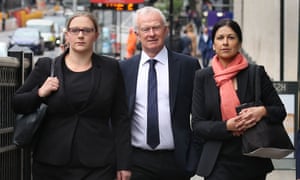 Martyn Day, a prominent human rights solicitor, should not have used "unbalanced and sensationalist" language at a press conference when announcing allegations that British troops murdered and tortured Iraqis, the court of appeal has been told.
The claim was made on the opening day of an appeal by the Solicitors Regulation Authority (SRA) against a disciplinary tribunal's decision to acquit the London law firm Leigh Day and three of its lawyers of professional misconduct charges and one charge of dishonesty.
The misconduct allegations centre on the way the firm handled claims that British soldiers tortured and murdered Iraqi detainees after the so-called Battle of Danny Boy near Basra in 2004.
Fighting had erupted after members of the Mahdi army Shia militia ambushed a UK military patrol. It was alleged that some Iraqis were captured and taken back to a British base where they were supposedly tortured and murdered.
The claims were subsequently found to be fictitious by the al-Sweady inquiry in 2014 which said they were the product of "deliberate lies".
…
https://www.theguardian.com/law/2018/jul/17/lawyer-used-sensationalist-language-in-iraq-torture-case
https://www.lawgazette.co.uk/news/leigh-day-undermined-trust-in-legal-profession-sra-tells-appeal/5066905.article
https://www.thesun.co.uk/news/6805325/appeal-leigh-day-brit-troops-slur/
https://en.wikipedia.org/wiki/Martyn_Day_(lawyer)
Tagged: UK